At CES, a wide range of companies showed or discussed products that are becoming more aware of their surroundings, largely due to improved sensors. This will enable tablets, phones, cars, drones and other devices to interact with people and each other in more sophisticated ways. This could also require significant upgrades to camera tech. While Microsoft's Kinect sensor for Xbox was built to use gestures for game control, the tech has proven more far-reaching, especially in robotics research. Now Intel is aiming to take the next step with 3D sensors.
"Kinect has been used by robotics researchers at NASA, the University of California at Berkeley, Disney, and many other places," reports Vox. "Intel is trying to one-up Microsoft by building Kinect-like 3D sensors that are small and cheap enough to integrate into mobile devices."
Intel was promoting its RealSense 3D camera tech during CES last week. The company is reportedly looking to generate interest from major electronics manufacturers such as LG and Samsung.
Intel's goal is to make the tech cheap enough for a mass market so that tablets, laptops, and possibly phones will eventually feature 3D cameras.
"Being able to capture 3D images is pretty cool in its own right — Intel says you'll be able to turn everyday objects into digital models suitable for 3D printing, for example," notes Vox. "But what makes technologies like the Kinect and RealSense really powerful is software that helps app developers recognize the people and objects in a scene."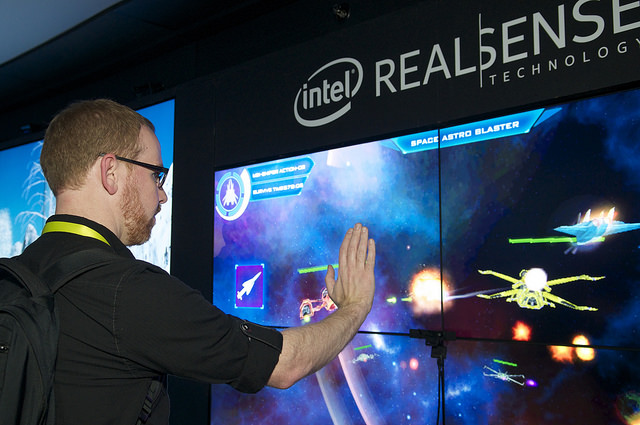 One major application that was emphasized throughout CES involved the connected capabilities and safety concerns of vehicles that can navigate autonomously on the ground and in the air. We saw this with automobiles and drones last week.
During his keynote, Intel CEO Brian Krzanich showed how a drone outfitted with RealSense cameras could efficiently navigate around obstacles, a compelling instance in which the small size and power consumption of RealSense tech is vital.
"This is going to be a big area of technological progress in the coming decade," Vox suggests. "Hardware companies will be working to improve the performance of 3D sensors while reducing their cost. Meanwhile, companies in Silicon Valley, Detroit, and elsewhere will be developing software that uses these sensors to understand the world. The result will be a proliferation of devices, from tablets to self-driving cars, that understand and interact with the world around them."
Topics:
2015 CES
,
3D
,
3D Printing
,
App
,
Automotive
,
Brian Krzanich
,
Camera
,
CEA
,
Connected Device
,
Consumer Electronics Show
,
Developer
,
Disney
,
Drone
,
Gaming
,
Gesture Control
,
Intel
,
IoT
,
Kinect
,
Laptop
,
Las Vegas
,
LG
,
Microsoft
,
Mobile
,
NASA
,
RealSense
,
Robotics
,
Samsung
,
Sensor
,
Smart Device
,
Smartphone
,
Tablet
,
UC Berkeley
,
Xbox