Intel announced it is acquiring Movidius, the Irish computer vision company that builds processors for drones, robots, VR systems and more. Movidius was an early partner with Google and was responsible for Project Tango's 3D sensor technology. Intel is planning to move beyond PCs; the Movidius deal is expected to help it expand its artificial intelligence portfolio and build upon its RealSense platform. According to Intel, with Movidius the company "gains low-power, high-performance SoC platforms for accelerating computer vision applications."
"Movidius has seen a great deal of interest in its radically low-powered computer vision chipset, signing deals with major device makers, including Google, Lenovo and DJI," notes TechCrunch. "Movidius's SoC claims a sub-1 Watt power budget, a rate much lower than competitors."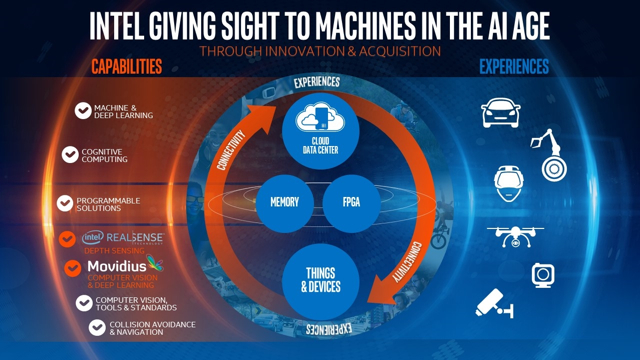 Intel has major plans for its RealSense technology, which it sees as "the next wave of computing." According to the company's release on the Movidius deal, Intel is aggressively pursuing connected devices, computer vision, deep learning, perceptual computing and much more.
"We see massive potential for Movidius to accelerate our initiatives in new and emerging technologies," said Josh Walden, SVP and GM of Intel's New Technology Group. "The ability to track, navigate, map and recognize both scenes and objects using Movidius' low power and high performance SoCs opens up opportunities in areas where heat, battery life and form factors are key."
"Intel is seeking to move into new markets beyond the shrinking personal computer business, where sales of microprocessors are its largest source of revenue," reports The Wall Street Journal. "The company, which failed to build a major business in chips for smartphones, has announced a series of moves to provide technology for drones, wearable devices and other connected gadgets associated with a trend called the Internet of Things."
While rival Nvidia may currently have a leg up in artificial intelligence, with graphical processing chips designed for rendering images in video games, Intel recently unveiled plans for a new version of its Xeon Phi processor specifically for artificial intelligence applications.
The company also announced last month it is acquiring Nervana Systems, a 48-employee startup developing semiconductors, software and services with a focus on deep learning.
Topics:
3D
,
Artificial Intelligence
,
Augmented Reality
,
Cloud
,
Cognitive Computing
,
Computer Vision
,
Deep Learning
,
DJI
,
Google
,
Intel
,
Internet
,
IoT
,
Ireland
,
Lenovo
,
Movidius
,
Nervana Systems
,
Nvidia
,
PC
,
Processor
,
Project Alloy
,
Project Tango
,
RealSense
,
Robot
,
Sensor
,
Smartphone
,
SoC
,
Video Game
,
Virtual Reality
,
Wearable
,
Xeon Phi