Starbucks launched "Upstanders," an original multi-platform 10-episode series that tells "stories of compassion, citizenship and civility" through video, podcasts, and text. The content will be distributed in the company's in-store digital network, online and via its mobile app. Starbucks chairman/chief executive Howard Schultz wrote and produced the series with Starbucks executive producer Rajiv Chandrasekaran, who left his post as senior editor at The Washington Post to establish the production company in Seattle.
TechCrunch notes that, although Starbucks didn't invest in the production company, it "backs select projects tackling social issues." The series looks at homelessness, food waste, the role of police, autism, wounded warriors, poverty, and hostility towards Muslims.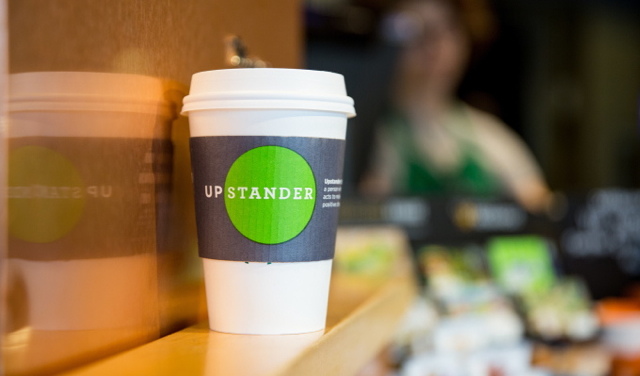 "We've asked ourselves what is the role and responsibility of a public company … in a time when we need more optimism, empathy, compassion and leadership," said Schultz. "More of these stories need to be heard. We are using our scale to share them as broadly as possible."
Chandrasekaran notes that Americans are "inundated with stories of discord and dysfunction."
"But there's more to America than that," he said, noting that "Upstanders" will focus on "people who are courageously, selflessly, collaboratively, and thoughtfully creating positive change."
Starbucks has promoted books, music and movies in its stores. Last year, the company inked a deal with Spotify that let customers "influence the music played in-store" and save the songs to their Spotify playlists, and also partnered with Google for in-store Wi-Fi and its digital network. While producing its own media content is a leap forward, with its captive audience Starbucks has the means to distribute and market the content.
In addition, the company plans to promote the series with local Town Hall events, led by Chandrasekaran, in Memphis, Dallas, Deerfield, Florida and Washington D.C. and other select markets, to "focus on how we can do more to create positive change in our communities."
Each week's story will be available via the "Upstanders" website and on iTunes as podcasts, the latter of which "feature Schultz and Chandrasekaran discussing the current episode and sharing their own personal reflections." On the website, a social campaign run by Fotition "encourages visitors to nominate others in their community making an impact." To speed up registration to vote, the site also features TurboVote.
Topics:
Apps
,
Audio
,
Books
,
Fotition
,
Google
,
Howard Schultz
,
iTunes
,
Mobile
,
Mobile App
,
Movies
,
Music
,
Original Programming
,
Podcasts
,
Rajiv Chandrasekaran
,
Seattle
,
Social Issues
,
Spotify
,
Starbucks
,
The Washington Post
,
Upstanders
,
Video
,
Website
,
Wi-Fi