Gaana is a growing streaming music service based in Noida, India that offers 45 million songs in 20 regional languages to its 152 million monthly users. Backed by India's Bennett Coleman & Co. and China's Tencent Holdings, Gaana offers hyperlocal content and voice-based search, ideal for those with limited literacy skills. Only about half of India's 1.3 billion people are online, giving Gaana plenty of room to grow. Even so, numerous music streamers from outside India — including Spotify, YouTube Music and ByteDance's Resso — are pursuing music market share there.
The Wall Street Journal reports that Gaana's reach is "more than half of Spotify's global user base, double Apple Music's global count and far more than YouTube Music and Amazon's music services." With India's vast untapped market, "every global player is trying to get a share" there, said Counterpoint Research analyst Abhilash Kumar. "The market is very nascent and not at all saturated."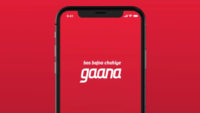 According to Deloitte, "Indians spend an average of 21.5 hours a week listening to music, some 20 percent higher than the global average." As a result, "the world's most-watched YouTube channel is T-Series, which shows Indian music videos and has racked up tens of billions more views than any other channel."
Other would-be rivals include Spotify and ByteDance, which just launched its first music streaming app, Resso, in India and Indonesia. Apple Music and Amazon Prime Music, available in India for several years, "haven't been able to match Gaana's popularity." Gaana also competes with another Indian company, Reliance Industries, which offers music streaming service JioSaavn.
Counterpoint stated that, although "music-streaming revenue globally hit $24 billion last year … India so far accounts for just a sliver of that, some $200 million in 2019." But, added TechSci Research, "streaming revenues in India are projected to climb to $400 million by 2023 … as hundreds of millions of new digital listeners turn to their mobile devices for music."
Gaana "will need to continue to innovate to stay ahead of the competition," said analysts, because "many Indian consumers shop around continuously and will abandon services if they find a better deal or juicier offerings elsewhere." Spotify debuted a "light version of the app that takes up less space on phones," for example.
When it comes to price, Gaana offers a free version with advertising "and paid plans starting at 12 rupees (17 cents) a month for students." In comparison, although Spotify also offers a free version, "its least expensive ad-free monthly plans start at around 80 cents … Apple's service starts at about 70 cents, while YouTube Music starts at about $1.10."
Analysts noted that it is "less expensive to secure rights" for Indian music and that Gaana "doesn't have to worry about undermining its product if it charges significantly less in India than in other markets."
Topics:
Abhilash Kumar
,
Advertising
,
Amazon Prime Music
,
App
,
Apple Music
,
Bennett Coleman & Co.
,
ByteDance
,
China
,
Counterpoint Research
,
Deloitte
,
Gaana
,
India
,
JioSaavn
,
Music
,
Music Licensing
,
Noida
,
Reliance Industries
,
Resso
,
Spotify
,
Streaming
,
T-Series
,
Tencent Holdings
,
YouTube
,
YouTube Music