Road to VR is featuring a guest article this week by Alvin Wang Graylin, China president of Vive at HTC, who sings the praises of Ernest Cline's best-selling novel Ready Player One. The story depicts an existence in which "VR is intertwined into every aspect of our daily lives," writes Graylin. He believes there are positive lessons to be learned from such a "VR-First future." The book details tech "that has the potential to create truly transformative impact on our future lives, culture, and world," which is why he makes sure every member of his China Vive team has a copy. In his article, Graylin outlines what he sees as the 16 key takeaways from Ready Player One.
In addition to his current position at HTC, Graylin serves as vice-chair of the Industry of Virtual Reality Alliance and president of the $15 billion Virtual Reality Venture Capital Alliance. He also oversees the Vive X accelerator in Asia.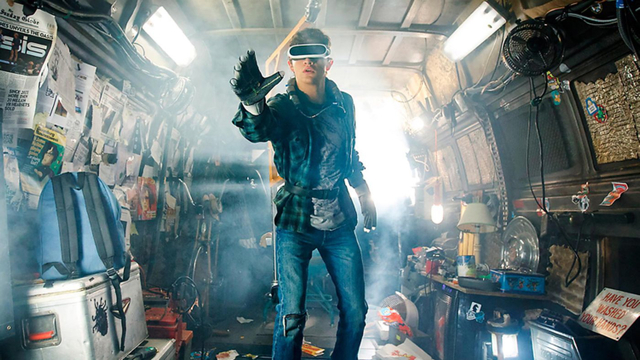 Graylin explains, "Ready Player One follows the adventures of a teenager and his friends as they overcome untold challenges in virtual reality on their quest to win a global online scavenger competition and its gigantic prize."
He believes that the book and its adaptations — including Steven Spielberg's movie (above), written by Zak Penn and Ernest Cline, scheduled for March 2018 — "will make the concept of VR accessible for a mass audience, in turn helping bring broad awareness of VR to the general public."
Warner Bros. announced in March that Vive would serve as the official VR partner for the film, and all related VR content and experiences would "be available on Viveport, HTC Vive's digital distribution platform."
The following are the 16 key takeaways from Cline's acclaimed novel according to Graylin (for additional details on each, check out the compelling article on Road to VR):
1. We will be more dependent on VR devices than we are on our phones today.
2. VR may play a bigger role in our future lives than AR.
3. Network speeds and cloud computing capacity will be the key utility of the future.
4. Everyone will become 'Gamers' & watching game streams will be a major pass-time.
5. Virtual Schools will democratize high quality education to the world.
6. Remote work via VR will become the norm.
7. VR can erase race and gender inequality gaps.
8. Gathering experiences and access will be more important than gathering wealth.
9. Virtual currency will become more relevant to our lives than traditional currency.
10. A huge economy is coming for virtual goods and services.
11. Home food delivery may become the most common way to eat.
12. VR platforms should put in safeguards for managing physical health into future systems.
13. VR can make physical distance irrelevant in our daily lives; VR natives may never meet their best friends in real life.
14. Privacy and data security will be critical to enable an acceptable VR-First future.
15. VR can reduce our ecological footprint to enable a more sustainable environment.
16. Even in a virtual world of abundance, humans still have a need for greater purpose.
Topics:
5G
,
Alvin Wang Graylin
,
Asia
,
Augmented Reality
,
Book
,
China
,
Cloud
,
Education
,
Ernest Cline
,
eSports
,
Gamification
,
Gaming
,
Healthcare
,
HTC
,
HTC Vive
,
IVRA
,
Mobile
,
Movie
,
Novel
,
Privacy
,
Ready Player One
,
Security
,
Smartphone
,
Steven Spielberg
,
Virtual Currency
,
Virtual Goods
,
Virtual Reality
,
Vive
,
Vive X
,
Viveport
,
VR Headset
,
VRVCA
,
Warner Bros.
,
Zak Penn