This year's Super Bowl made a major splash on a number of fronts. It marked the NFL's first overtime game in Super Bowl history, a fifth ring for New England Patriots quarterback Tom Brady, a historic fourth quarter comeback, the first time a squadron of drones were featured during the halftime show, some impressive overall ratings, and a collection of ads that focused on social issues such as gender equality, ethnic diversity and immigration. The game delivered Fox an average viewership of 111.3 million, making it one of the top-five most-watched Super Bowls. Nielsen notes the broadcast generated a 45.3 household rating, while 70 percent of U.S. households turned in.
"Numbers put out by Fox — which include Fox Sports Deportes and streaming — showed 113.7 million average viewers and a total audience of 172 million," reports USA Today. The broadcast "was the fifth most-watched program in TV history and trailed only Super Bowl XLVIII (112.2 million) as the most-watched event in Fox history, according to the network."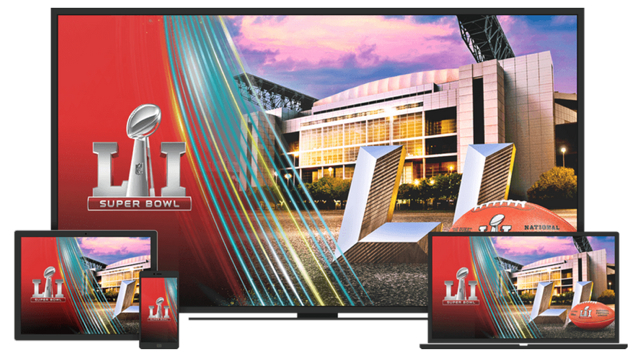 According to iSpot.tv, which tracked online views and social actions during each commercial, Budweiser's 'Born the Hard Way' spot that followed Adolphus Busch's journey to America, generated the highest share of online activity (18.71 percent).
Second in terms of digital activity was Netflix's 'Stranger Things Season Two' (13.14 percent). That was followed by T-Mobile's '#UnlimitedMoves' with Justin Bieber (9.3 percent), Mr. Clean's 'Cleaner of Your Dreams' (8.55 percent), Audi's 'Daughter' (5.2 percent), Kia's 'Hero's Journey' featuring Melissa McCarthy (4.38 percent), Buick's 'Not So Pee Wee Football' with Cam Newton (3.48 percent), and 84 Lumber's 'The Journey Begins' (3.05 percent).
The 84 Lumber commercial, which included a longer version online depicting mother-daughter immigrants eventually facing a large wall when they reached the U.S., is generating a great deal of media attention. Some 300,000 people reportedly tried to access the nearly 6-minute film in the first 60 seconds after the Super Bowl spot aired, causing the site to temporarily crash.
Twitter revealed that 27.6 million tweets about the game were sent globally. The most mentioned brands were led by by Pepsi, followed by T-Mobile, Avocados from Mexico, Budweiser, Mr. Clean, Audi, Skittles, 84 Lumber, Doritos and Intel.
"On Facebook and Instagram, the Patriots win saw 64 million people worldwide generate 240 million interactions on Facebook while 44 million people had 150 million interactions on Instagram related to the Super Bowl," explains Cynopsis. "Over 90 percent of Facebook interactions took place on mobile. Lady Gaga wrapping up her performance of Bad Romance during halftime served the most 'Loved' moment of the Super Bowl."
While numbers for Facebook and Twitter were an increase over last year's Super Bowl, they did not match the record-setting figures from 2015, according to TechCrunch.
Related:
Super Bowl Ads Split Between Humor and Unity, The Wall Street Journal, 2/5/17
Escapism Reigns in Super Bowl Commercials, but Politics Proves Inescapable, The New York Times, 2/6/17
A Look at All the Ways Fans Will Use Social Media During the Super Bowl, Adweek, 1/30/17
Budweiser Is Winning the Super Bowl Attention Battle with This Immigration-Themed Ad, Recode, 2/5/17
All the Ads That Ran During the Super Bowl, in Order, Business Insider, 2/6/17
Hashtags in Super Bowl Ads Slip to 30% in 2017, Overtaken by URL Use, Marketing Land, 2/5/17
Topics:
84 Lumber
,
Advertising
,
Atlanta Falcons
,
Audi
,
Budweiser
,
Buick
,
Cam Newton
,
Facebook
,
FOX
,
Instagram
,
Intel
,
iSpot.tv
,
Justin Bieber
,
Kia
,
Lady Gaga
,
Melissa McCarthy
,
Mr. Clean
,
Netflix
,
New England Patriots
,
NFL
,
Nielsen
,
Skittles
,
Social Media
,
Stranger Things
,
Streaming
,
Super Bowl
,
T-Mobile
,
Television
,
Tom Brady
,
Twitter