Although online streaming is not threatening to overtake traditional television viewing yet, it is gaining momentum. A recent Harris Poll found that 85 percent of Americans say they usually watch programs on a television via live feed, recorded or on demand. The number of Americans that most often stream shows is up three percent from 2012, at 23 percent. The poll also found that a quarter of Americans said they watch more streaming television now than they did a year ago.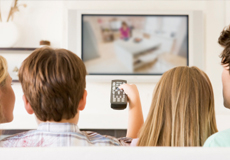 Only seven percent of participants said that they stream less than they did a year ago. The study found that among 18 to 36 year olds, non-streaming has gone down from 77 percent to 68 percent and streaming has increased from 41 percent to 47 percent.
"Looking ahead, nearly two in ten (18 percent) expect to be watching more online/streaming television programming a year from now while 4 percent expect to be watching less and half (50 percent) don't anticipate a change," explains Variety.
In addition, 38 percent of participants said that in order to watch a specific show, they have subscribed to a premium cable channel. For the same reason, 24 percent have subscribed to one or more streaming services.
"Six in 10 streaming-dominant viewers would like to be able to watch TV pilots and vote on what gets ordered as a full series; four in 10 would be willing to pay extra for a service that allowed them to stream current shows ad-free; and nearly nearly four in 10 (37 percent) would pay more for a streaming service that allowed them to temporarily download TV episodes, for when they're away from an Internet connection," reports Variety.
The study also found that 74 percent of those that regularly stream shows use a computer while 55 percent use a television, and 78 percent of participants say they multitask while watching TV (with 63 percent engaging in online activities, 35 percent in texting, 30 percent in reading non-electronically and 7 percent reading electronically).