YouTube is now considered by many consumers to be the leading online resource for watching TV shows. According to research from Frank N. Magid Associates, which polled 2,400 people about online sources they use to watch shows, 38 percent of respondents pointed to YouTube. Netflix held second at 33 percent, followed by Hulu at 17 percent and Amazon Prime Instant Video at 14 percent. The study learned that the number of people who watch video online daily has increased 10 points to 32 percent in two years.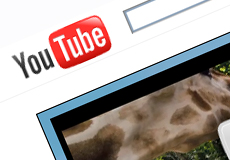 "Respondents of the Magid survey also called out YouTube as a top source for viewing movies, with 24 percent of those surveyed saying they go there for film," reports CNET. "Netflix was No. 1 at 35 percent, with Amazon Prime, Hulu, and HBO Go trailing YouTube."
While YouTube offers a range of television content for purchase as episodes or full seasons (FX's "Sons of Anarchy," HBO's "Game of Thrones," AMC's "The Walking Dead"), most of its video is free short-form content, which may make some people question the survey's findings.
"YouTube offers purchases of some current and recent TV shows, but it's not comparable to the lineup of programming secured by SVOD services," reports Variety. "The riddle may boil down to the fact that ordinary consumers may have an expansive idea of what a 'TV show' is — encompassing everything from, say, ABC's 'Jimmy Kimmel Live' clips to made-for-digital series like 'Video Game High School.'"
The article suggests that consumers "are actually watching clips from television programs or other related digital video bites, not full-length episodes" via YouTube.
However, online television is rapidly growing, and the variety of content offered by YouTube is evolving.
"The joke in the industry is it's all babies burping and cats meowing, and maybe YouTube was that," said Mike Vorhaus, president of Magid Advisors. "When they actually go and use it, people are surprised by the breadth of content that's there."
Topics:
ABC
,
Amazon Prime
,
AMC
,
Episodes
,
Frank N. Magid Associates
,
FX
,
Game of Thrones
,
Google
,
HBO
,
HBO GO
,
Hulu
,
Internet
,
Jimmy Kimmel Live
,
Mike Vorhaus
,
Movies
,
Netflix
,
Online
,
Research
,
Sons of Anarchy
,
Streaming
,
SVOD
,
Television
,
The Walking Dead
,
TV Series
,
TV Shows
,
Video
,
Video Game High School
,
YouTube