Google is readying Daydream VR, a store/software service, set to debut around the same time as new Android phones, VR headsets and controllers. Daydream will offer users apps from YouTube and HBO Now among others. Google is also investing in original content to help build the buzz for its platform, including 360-degree projects with YouTube stars such as the Dolan twins and Justine Ezarik, as well as projects from Hulu. The goal is to become the dominant way that consumers interact in VR.
Bloomberg reports that Google "has also partnered with video-game producers and sports leagues" and will rely "on apps, shorts and games to promote Daydream." Sources say Google is spending "high six figures on video games, and is offering from low five figures to low six figures for projects with filmmakers and online talent."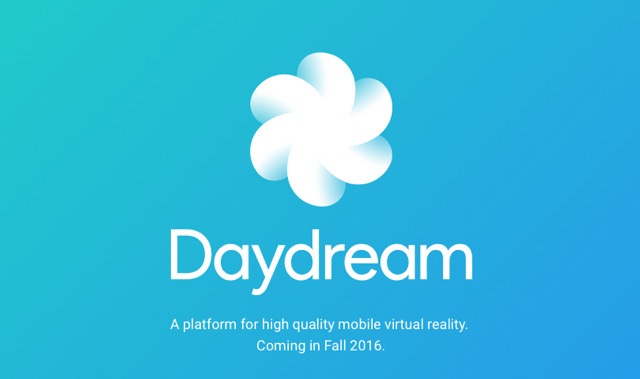 "It's apparent they've spent a lot of money internally," said Finn Staber, who co-founded TheWaveVR, a startup developing a music app for Daydream.
Unlike others in the VR space focused on pricey VR headsets, Google is targeting mobile-based VR. "Google's Daydream will help advance mobile virtual reality," says United Talent Agency digital media agent Oren Rosenbaum, who leads the company's VR effort. "Mobile virtual reality is what's going to get the most people to strap things on their head."
VR filmmakers are required to use a 16-camera rig that is ideal for Google's Jump software for VR content. Filmmakers will soon have the option of using GoPro's version, dubbed Odyssey and priced at $15,000. Sources say that, "dozens of filmmakers have signed up to work with YouTube," one of the apps featured on Daydream. Since Google is focused on "encouraging creative people to produce content," YouTube will not take any ownership in VR projects created with its funds.
Google is offering "creative and financial support" to apps that use Tilt Brush, a painting app it purchased in April 2015 or the Wave, a DJ tool for creating and performing live music. "They want more content in the store to get people talking," said Rosenbaum. "Google investing in the space continues the momentum and growth we're all expecting." Google will also co-market some of the programming.
Google's work on its own VR headset has taken a backseat to "reference designs for headsets, and controllers, for other companies to build their own VR devices." One of those designs is for a controller "to make mobile-based VR more interactive," via a remote that enables users to navigate and select apps.
Topics:
360 Video
,
Android
,
Apps
,
Daydream
,
Dolan Twins
,
Finn Staber
,
Gaming
,
Google
,
GoPro
,
HBO Now
,
Hulu
,
iJustine
,
Internet Celebrities
,
Jump VR
,
Justine Ezarik
,
Mobile
,
Music
,
Odyssey
,
Oren Rosenbaum
,
Smartphones
,
TheWaveVR
,
Tilt Brush
,
United Talent Agency
,
Video
,
Video Games
,
Virtual Reality
,
VR Headsets
,
Wave
,
YouTube