Google has released a Glass software update that includes some substantial new features. Update XE12 provides users with the ability to snap a photo with a discreet wink, adds a lock screen function for improved security, offers options for uploading Glass-shot videos directly to YouTube, and intros Hangouts integration for messaging and chatting with friends. Additionally, the Google Play Music app is available and the long-awaited MyGlass app for iOS is being rolled out.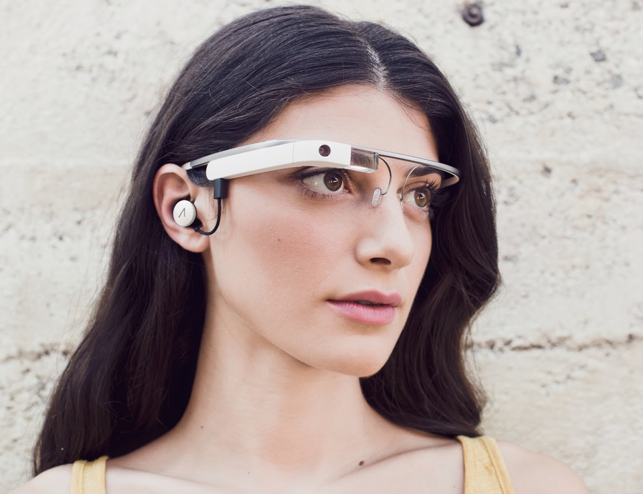 The winking control, which could raise concerns regarding privacy, may become a major part of gesture control for the high-tech headwear.
"We're starting with pictures, but just think about what else is possible," notes the Google Team via a Google+ post this week. "Imagine a day where you're riding in the back of a cab and you just wink at the meter to pay. You wink at a pair of shoes in a shop window and your size is shipped to your door. You wink at a cookbook recipe and the instructions appear right in front of you — hands-free, no mess, no fuss."
In response to Explorer requests for improved security, Google has also added a lock screen function that prevents others from using your Glass until your secret "Glass handshake" using taps and swipes is performed on the touchpad.
And video uploading just got easier. According to Digital Trends: "Uploading Glass-shot videos directly to YouTube is now just a matter of saying, 'OK Glass, share with YouTube,' or alternatively, tap on the video and swipe to the YouTube share card. Hangouts integration, too, has been added with this month's update, enabling you to message and chat with friends through Google's communication tool."
A few weeks ago, Digital Trends reported that the company's music service, Google Play Music, has been further worked into Glass. Users can now easily navigate playlists and All Access radio stations: "After uttering, 'OK Glass, listen to,' you can add the name of a song, album, artist or playlist. Glass then takes a look through your Google Music account, including the subscription-based All Access area, and plays your choice."
Finally, the MyGlass app for iOS will help iDevice-owning Glass users easily configure and manage their Glass headwear. "The iOS app is ready, but we need you to have this month's Glass update first before it will work," explains the Google team. "We know we spilled the beans a bit too soon, but we'll let you know when it's available for download later this week."
Topics:
Album
,
All Access
,
App
,
Artist
,
Chat
,
Control
,
Explorer
,
Feature
,
Function
,
Gesture
,
Glass
,
Google
,
Hands Free
,
Handshake
,
Hangouts
,
Headwear
,
Image
,
iOS
,
iPhone
,
Lock
,
Message
,
Music
,
MyGlass
,
Photo
,
Play
,
Playlist
,
Privacy
,
Radio
,
Screen
,
Security
,
Social
,
Software
,
Song
,
Swipe
,
Tap
,
Touchpad
,
Update
,
Upload
,
Video
,
Voice
,
Wearable
,
Wink
,
XE12
,
YouTube