Google's paid search ads will soon help make online purchases even easier. According to Omid Kordestani, chief business officer at Google, the company is getting ready to introduce a "buy button" to accompany products featured in its shopping ads. "There's going to be a buy button. It's going to be imminent," he said at the recent Code Conference. The buttons are expected to initially appear exclusively on mobile searches alongside the platform's paid search ads. They are not expected to appear with the nonsponsored results of "organic" Google searches.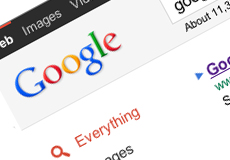 "The buttons will accompany sponsored — or paid — search results, often displayed under a 'Shop on Google' heading at the top of the page," The Wall Street Journal first reported a few weeks ago. "If shoppers click on the buy buttons, they will be taken to another Google product page to complete the purchase… On that page, they will be able to pick sizes and colors and shipping options, as well as complete the purchase."
The move is seen as "the latest sign of Google's ambitions to expand its search engine from being a mere provider of Web links to a one-stop shop where consumers can directly buy whatever strikes their fancy," suggests Business Insider.
"Kordestani also noted onstage that people are more frequently making mobile searches that lead to offline purchases, too," notes Re/code. "He said the number of Google queries that include proximity — where users try to find something near them — has doubled in the last year."
In her annual Internet trends report, analyst and venture capitalist Mary Meeker recently predicted that buy buttons would be quickly adopted by companies including Google.
Featuring buy buttons on its search-result pages could be a step by Google toward becoming an online marketplace that competes with industry leaders Amazon and eBay.