Facebook launched its first dedicated virtual reality app, Facebook 360, initially available only for the Samsung Gear VR mobile headset. The new app, for download via the Oculus Store, will serve as a central hub for the more than one million 360 videos and 25 million 360 photos already posted to the site. Meanwhile, Vimeo has joined competitors Facebook and YouTube in introducing support for 360-degree video content. The site now features a channel of curated 360 videos in addition to a series of tutorials designed to assist video creators with producing immersive content.
"At launch, Facebook 360 will feature four main 'feeds,' delivering content into users' eyeballs from closer than ever," reports TechCrunch. "The 'Explore' tab will give users a bird's-eye look at the 360 content that is popular across Facebook from a variety of media companies and creators; meanwhile, the 'Following' tab will let you dial into the content being produced by your friends."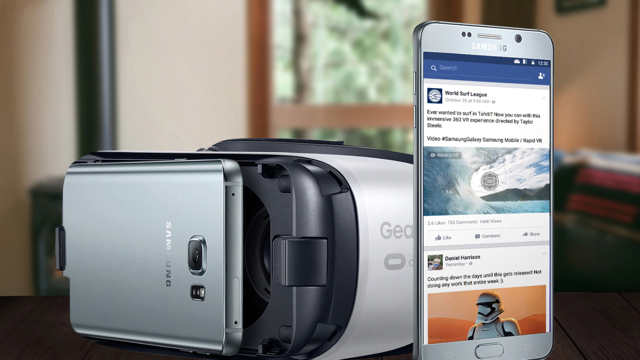 Users can also save content discovered online, share and comment on videos, and organize content via the "Timeline." More social features are on their way.
"While Facebook continues to work on its own suite of social VR features, it's clear that the company has a grand vision in mind for bringing its nearly 2 billion users into the world of VR, and this app may be one of their earliest steps in doing so."
According to another TechCrunch write-up, Vimeo is distinguishing itself from the competition by focusing on the video creators and their ability to earn money from their work.
"Creators with Pro or Business memberships can choose to sell their videos, rent them or offer them on subscription, instead of giving them away for free or trying to support them with ads, as on YouTube," notes TechCrunch. "Creators get to keep 90 percent of the revenue generated, after transaction costs. Creators can also control settings like field of view, outro and more, as well as upload videos in up to 8K."
Vimeo's 360 videos are viewable via the Vimeo app on headsets including the Gear VR, Zeiss VR One, and Daydream. Support is coming soon for HTC Vive and Oculus Rift.
Topics:
360 Photos
,
360 Video
,
8K
,
Apps
,
Daydream
,
Facebook
,
Facebook 360
,
Gear VR
,
Google
,
HTC Vive
,
Immersive Video
,
Mobile
,
Mobile Video
,
Oculus Rift
,
Oculus Store
,
Photos
,
Samsung
,
Smartphones
,
Social Media
,
Streaming
,
Subscription
,
Video
,
Vimeo
,
Virtual Reality
,
VR Headsets
,
YouTube
,
Zeiss VR One