Facebook is rolling out its short-form video feature, Reels, to all iOS and Android users in the U.S. Intended to counter the increasingly popular TikTok, creators can use Reels to generate within Facebook content of up to 30 seconds using in-app editing tools for music, audio, AR filters and other effects. The feature was deployed in beta last month. Instagram introduced its own version of Reels last year, allowing videos of up to 60 seconds. Facebook also debuted a bonus program to pay creators for Reels views as part of its previously announced initiative to pay creators $1 billion through 2022.
The Reels Play bonus program will pay eligible U.S. creators based on the performance of their Reels on Facebook and Instagram. Qualifying Reels must get at least 1,000 views over 30 days, and the program is for now invite-only, Facebook said in a Newsroom post. Facebook Reels will be found in the News Feed or Groups and users can follow a creator directly from the video.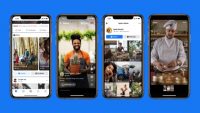 TechCrunch reports Facebook "is also paying creators to run certain types of ads." New ad formats — including Sticker Ads and Banner Ads in Reels — are being tested by the company in an effort to develop more ways creators can monetize Reels.
As with Instagram Reels, "we'll soon begin testing full-screen and immersive ads between Reels to help small businesses and brands connect with new audiences," Facebook writes in its news post. "Just like with organic Reels content, people can comment, like, view, save, share and skip them."
Facebook is also testing the ability of its users to share their existing Instagram Reels to the sister-platform in order to find new followers. Integrating virtual tipping for Reels through the Stars program is another new feature under exploration.
Meanwhile, Instagram has been ramping up its video efforts as it competes with TikTok and YouTube. TechCrunch reported yesterday that the app is combining "IGTV's long-form video and Instagram Feed videos into a new format called simply Instagram Video." However, the update will not affect plans for Reels. "The company's short-form video platform and TikTok rival will continue to remain separate. They won't be mixed into this feed of videos, if users choose to scroll."
TechCrunch writes that Reels displaying the TikTok watermark "will be downranked" by Facebook's algorithm, although it says the company is not generally "penalizing content that's cross-posted to multiple services." TikTok, which was "the most downloaded app of 2020," seems to be keeping Facebook on its toes.
This summer, TikTok "became the first non-Facebook app to reach 3 billion global downloads." More recently, TikTok announced it's achieved 1 billion monthly active users. Facebook's "family of apps" gets 3.51 billion monthly active users, according to TechCrunch.