Just before the Mobile World Congress opened in Barcelona, Facebook chief executive Mark Zuckerberg announced a new in-house team, led by designers Daniel James and Michael Booth, tasked with building "social apps" for the Oculus. The announcement comes weeks before the release of the long-awaited VR headset Oculus Rift, priced at $600 as a standalone headset and, paired with a PC, starting at $1,500. Facebook also launched a demo of "Toy Box," with virtual shared games, all part of a move towards making VR more social.
Wired describes "Toy Box," as a "free-form virtual environment where you can not only toy with ping pong paddles and balls but light firecrackers and play with blocks." What makes it social is that more than one person can enter the environment and interact. "The thing that's really striking is that when you have another person there, the whole thing inherently becomes social," Zuckerberg says. "And they're novel ways of interacting."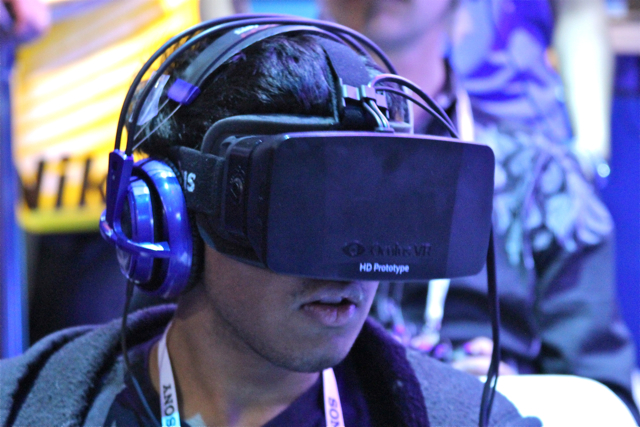 In a Wall Street Journal interview with Brendan Iribe, the Oculus chief executive talks about the prospects for the Rift and the VR market in general. When it debuts in March, Oculus' Rift will soon compete with headsets from both Sony and HTC, expected to deliver in the first half of 2016.
"There isn't a version two or three if there isn't a great version one," he said. "There are still a lot of challenges in terms of the computer you need to power the device, the form of the device, the amount of time you're going to spend inside. This is a 30- to 60-minute experience. We will get to hours, but that's not necessarily the first generation."
WSJ asked Iribe how he plans to get widespread adoption of a $1,500 headset/PC package. "Right now the goal is optimizing quality of the experience over adoption," he said. He isn't worried about adoption of the Rift, and has "already seen an overwhelming number of preorders."
"If we can get one million units over the lifetime of the Rift, that's going to be an incredible success," he said.
With regard to the competition, Iribe notes that "not everybody thinks about today is the social side, beyond just gaming," and that having Facebook as a partner will help Oculus to pursue having multiple people in the same virtual world, "experiencing a destination with you, teleporting and traveling together."
He also addresses health and safety concerns. "If you look back at the history of most new big technology breakthroughs, there is some element of controversy around what impact is it going to have. Whether it was books or computers or mobile devices. Now it's virtual reality. I'm really confident that it's part of the natural concern around new technology, and that VR will become a very big part of everybody's life in the future."
Topics:
Apps
,
Barcelona
,
Brendan Iribe
,
Daniel James
,
Facebook
,
Gaming
,
Headset
,
Health
,
HTC
,
Mark Zuckerberg
,
Michael Booth
,
Mobile
,
Mobile World Congress
,
Oculus Rift
,
PC
,
PlayStation VR
,
Safety
,
Social Apps
,
Social Media
,
Sony
,
Spain
,
Teleportation
,
Toy Box
,
Virtual Reality
,
Virtual World
,
Vive
,
VR