Slated for release in Q2 2016, Samsung's new Gear 360 is a compact camera with two lenses designed to capture 360-video for its Samsung Gear VR viewing system. At 153 grams, the Gear 360 is one gram lighter than the new Galaxy S7 and includes a pair of microphones for audio capture, a microSD slot for memory expansion up to 128GB, and a removable battery for up to 140 minutes of active use. Unlike the Project Beyond 360-camera, with 16 HD cameras, demonstrated in late 2014, the Gear 360 appears to be aimed at consumer use.
TechCrunch reveals the camera has four different shooting modes: video, photo, time-lapse video and looping video. The Gear 360's pair of fisheye F2.0 lenses capture 3840×1920 quality video (less than 4K) at 30 frames per second. A Samsung representative revealed that the camera is "optimized for capturing video while stationary," and it comes with a mini-tripod to enable that.
The limitations in resolution and frame rate, adds TechCrunch, "actually seems to have more to do with the limitations of the Gear VR than the Gear 360."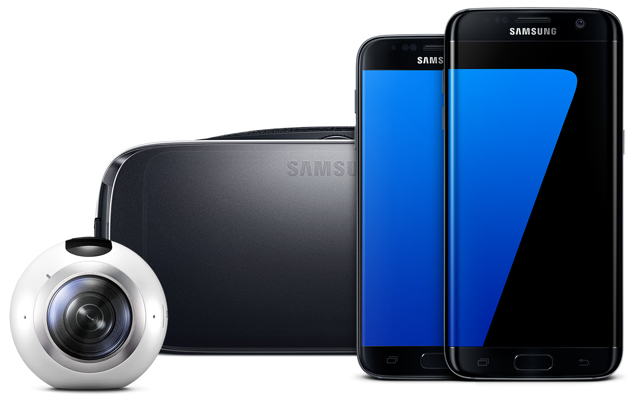 With the new Samsung Galaxy S7 and S7 Edge, the user can live-preview Gear 360 content, and after recording it, either save footage to a phone over Wi-Fi for 2D viewing or 360-degree viewing with Gear VR. Users can also upload content to 360 video-compatible services like YouTube or Facebook.
Samsung hasn't revealed a price for the new camera but TechCrunch notes that, "Gear VR was able to position itself at a price point where anyone with a Samsung phone was $99 away from virtual reality experiences, and that Samsung would do well to "position the camera in an affordable price range" to increase popularity of its VR products and services.
"Samsung has done a remarkable job of building their smartphones into a content absorption ecosystem that is miles more enveloping than any other mobile handset maker," suggests TechCrunch. "Today's reveal signals a shift to not only a new avenue of hardware for the Gear brand, but also Samsung's propagation of a more complete VR lifestyle."
Topics:
360 Degree
,
4K
,
Audio
,
Battery
,
Camera
,
Ecosystem
,
Facebook
,
Frame Rate
,
Galaxy S7
,
Gear 360
,
Gear VR
,
Lenses
,
Looping Video
,
Memory
,
Mobile
,
Photo
,
Project Beyond
,
Resolution
,
S7 Edge
,
Samsung
,
Samsung Gear VR
,
Smartphone
,
Social Media
,
Time Lapse
,
Video
,
Virtual Reality
,
VR
,
Wi-Fi
,
YouTube