The Consumer Technology Association (CTA) set "the global stage for innovation" in an all-digital format when CES 2021 opened its four-day run in January. The annual confab shaped up less as a showcase for breakthrough future technology and more as a bellwether for a world massively altered by the COVID-19 pandemic. This year, instead of key product trends to define our media and entertainment industry focus, the ETC@USC team emphasized four dynamics to drive much of the discussion: Adaptation, Change, Snapback and Opportunity. For an examination of these themes, ETC's CES report is now available online.
The pandemic has forced virtually every industry to accelerate their digital transformation. "As a world we have moved to this digital transformation quicker," said Gary Shapiro, CEO of CTA. "Technology changed us and allowed us to live, work and learn at home all while keeping valuable connections with each other."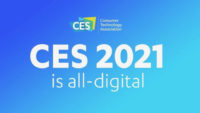 Technology providers and media companies have been compelled to innovate ways to adapt and survive the pandemic. Some have enjoyed new success while others struggle to stay above water.
Many of these adaptations represent fundamental change, some of which we should expect to continue in our world post-pandemic. Companies leading or preparing for established trends — such as the advent of 5G, AI, augmented reality, OTT, smart homes and digital health and fitness — were enabled by the pandemic necessities to accelerate their development and deployment.
Shapiro identified tech trends to watch in the coming year: 5G broadband wireless, 8K TVs, enterprise technologies, health tech, robotics, AR, VR and drones. CES 2021 largely reflected these expectations. While we did not have the opportunity to visit with vendors on the massive CES show floors this year, our reporting team scoured the collection of online keynotes, panels, press events and product demos made available in this year's all-digital format, especially with a focus on Adaptation, Change, Snapback and Opportunity.
In addition to the posts ETCentric published live during CES, our post-show report is now available online. ETC analysts have also been conducting a series of live-onsite briefings, a version of which will be made available to our readers via video in the near future.
Topics:
5G
,
8K
,
Artificial Intelligence
,
Augmented Reality
,
Broadband
,
CES
,
CES 2021
,
Coronavirus
,
COVID-19
,
CTA
,
Digital Health
,
Drones
,
Enterprise
,
ETC@USC
,
Fitness
,
Gary Shapiro
,
Health
,
Internet
,
IoT
,
Mobile
,
OTT
,
Robotics
,
Smart Homes
,
Television
,
UAVs
,
Virtual Reality
,
Wireless