Epic Games showcased Unreal Engine 5, with its heightened ability to generate realistic graphics in real time on next-generation game platforms from PlayStation 5 to smartphones. Epic Games chief executive Tim Sweeney stated that Unreal Engine 5, which will roll out in 2021, will offer "a real generational leap in new features … [and] will be a straightforward upgrade for anyone working with Unreal Engine 4." Epic Games also worked closely with Sony so its games can "take full advantage" of the new engine.
VentureBeat reports that, "the guinea pig for Unreal Engine 5 is 'Fortnite,' which … will debut on the PS5 and Xbox Series X based on Unreal Engine 4 technology, but … will eventually migrate to Unreal Engine 5." Sweeney stated that, "the rest of the industry can piggyback on the pioneering work, and they will pay the same kind of fees for the Unreal Engine 5 license as they do now with Unreal Engine 4: 5 percent of royalties for games that do more than $1 million in sales."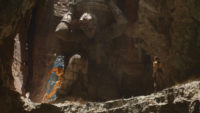 Sweeney and chief technology officer Kim Libreri emphasized the important role of its new Nanite technology and the Quixel megascans library as well as the Lumen dynamic lighting technology.
"Nanite frees developers from having to worry about individual polygons," said Sweeney. "You just build your highest-quality assets, and the rest of it is the engine's problem, sorting it out and scaling to each platform." He added that Nanite "ties into the Quixel megascans library, where we've made available a vast and rapidly growing collection of assets to everyone for free use in Unreal Engine games."
Libreri explained that, "now all industries that use our engine don't have to worry about the traditional authoring process." "You can load in a movie-quality asset and it just works in the engine," he said. "The engine does all the work behind the scenes. It's a massive quantum leap in artist-friendliness and the visual resources you get."
Sweeney added that Epic Games also offers "the entire stack of online technologies" to all developers, including "matchmaking and data storage … [as well as] the account system and the friends graph we built up for 'Fortnite'." "Everybody benefits together by building up this non-walled garden version of things that have existed on each platform and on Steam in a locked-down way in the past," said Sweeney, who added that developers can move from Unreal Engine 4 to Unreal Engine 5 via an upgrade.
TechCrunch reports that Unreal Engine 5, which arrives after eight years of Unreal Engine 4, "is all about harnessing the performance of next-generation consoles like the PlayStation 5 and Xbox Series X." Sweeney, it adds, is "most excited about" the new Nanite technology that offers "dynamic rendering" to let the engine determine how "massively complex objects … can be rendered onscreen."
"We're turning scalability from a developer's problem into our problem," he said. "This is all the detail that you can get until you get a higher-resolution monitor, or until 8K or 16K come along."
In the impressive video demo available on YouTube, the new Nanite and Lumen technologies "add up to a beautiful scene with complicated textures, animation, and lighting," notes Vice. "According to Epic Games, Unreal Engine 5 comes with a suite of tools that allow developers to rely less on hand crafting environments and animations. The demo is gorgeous, but it doesn't show off the developer's version of the software and it's hard to know what the software will look like for its target audience — people making video games."
For additional details, video and images, check out "A First Look at Unreal Engine 5" on the Epic Games blog.
Topics:
16K
,
8K
,
Data Storage
,
Developer
,
Epic Games
,
Fortnite
,
Gaming
,
Graphics
,
Kim Libreri
,
Licensing
,
Lumen
,
Matchmaking
,
Microsoft
,
Mobile
,
Nanite
,
PlayStation 5
,
Production
,
Quixel
,
Royalties
,
Smartphone
,
Sony
,
Sony PS5
,
Steam
,
Storage
,
Tim Sweeney
,
Unreal Engine 4
,
Unreal Engine 5
,
Xbox Series X