Disney founded its own accelerator a few years ago, providing financial and logistical support to a range of startups from Hanson Robotics, which makes lifelike robots, to Jaunt and its VR cameras. Disney chooses the startups it supports wisely, selecting companies that are creating things that could potentially align with Disney's media and business pursuits. Take virtual reality for example; Disney isn't likely to build its own camera, but it can certainly benefit from supporting a company with the expertise to do so.
Fast Company drilled down into two of the startups in Disney's accelerator: Nom, a live-streaming platform for food-and-drink-related videos, and Atom Tickets, a "newly launched Fandango rival." Nom's credentials include two former YouTube heavyweights: chief technology officer Steve Chen, formerly YouTube's cofounder, and chief executive Vijay Karunamurthy, formerly YouTube's chief engineer.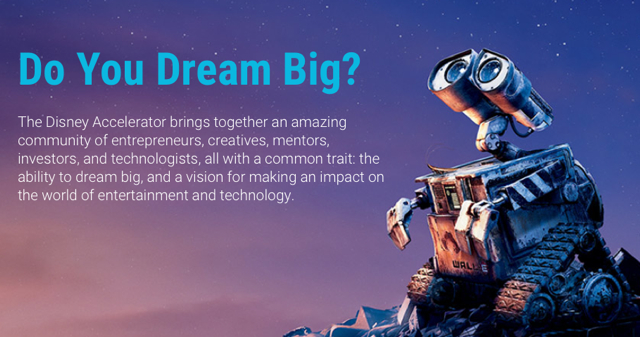 In exchange for its support, Disney gets "a platform that's distinct from Facebook Live, Periscope, or Instagram to promote their food properties." Nom also just partnered with ABC's "The Chew" and Vice's food vertical, Munchies.
Along with Disney, 20th Century Fox and Lionsgate invested $50 million in Atom Tickets, whose chief executive Ameesh Paleeja "previously worked as Amazon's director of mobile services." The e-ticketing app fills unsold seats and also allows moviegoers to order concession snacks and "follows up with ticket buyers through push notifications to offer merchandise and swag post-movie."
Disney will test Atom Tickets on Christmas movie "Rogue One," which "will offer customers the chance to buy movie merchandise alongside their tickets."
The Hollywood Reporter lists what the other Disney startups are working on. Ader, which connects advertisers with e-sports stars on Twitch, is creating "a pilot program with Maker Studios, home of top YouTuber PewDiePie and his gaming-focused network Revelmode, to offer e-sports opportunities to marketers," and is also bringing its e-sport analyst talents to ESPN's website.
Hanson Robotics will soon debut a $200 Albert Einstein robot it dubs "your personal genius" and is in R&D with DCPI and Walt Disney Imagineering "to explore how it can bring Disney characters to life as consumer products." Jaunt has developed a VR camera and publishing platform, and is now "working across all divisions at Disney, including licensing Disney Research's VR video technology and filming College GameDay in VR with ESPN."
LittleBits' "kid-friendly electronics kits encourage creativity," and its online show about invention will soon debut on Disney's website and YouTube. OTOY unveiled its "ORBX Media Player, for Oculus and soon Samsung Gear VR" enabling people to interact with Web pages within a VR backdrop for "websites from Disney, Marvel, ABC, ESPN and other Disney properties."
Playbuzz turns a 1,500-word think piece into "a bite-sized piece of content optimized for social sharing." Pley made a rental service for children's toys, starting at $12.99 a month and already used by 150,000 families. With Disney, it's creating a Disney princess-themed subscription box.
Topics:
ABC
,
Ader
,
Amazon
,
Ameesh Paleeja
,
Atom Tickets
,
Disney
,
Disney Accelerator
,
E-Ticketing
,
ESPN
,
eSports
,
Facebook Live
,
Fandango
,
Hanson Robotics
,
Instagram
,
Jaunt
,
littleBits
,
Maker Studios
,
Nom
,
Oculus
,
ORBX
,
OTOY
,
Periscope
,
PewDiePie
,
Playbuzz
,
Pley
,
Revelmode
,
Rogue One
,
Steve Chen
,
Twitch
,
Vice
,
Vijay Karunamurthy
,
Virtual Reality
,
Walt Disney Imagineering
,
YouTube