In a live question-and-answer period during CES 2021, Consumer Technology Association vice president of research Steve Koenig and director of research Lesley Rohrbaugh answered questions about technology trends not described in their earlier presentation on predictions for 2021. In answer to a question about what to expect this year from smart glasses, Koenig emphasized that, "this is definitely the year of augmented reality." But, he added, rather than describing experiences as VR, AR or MR, he said those terms will be replaced by describing "degrees of immersion."
Koenig added that, "people like these [VR] experiences but AR is really helpful in providing real-time information." Rohrbaugh, who had pointed to the use of Microsoft HoloLens' AR for medical uses, answered a question about the increased use of voice in smart home products.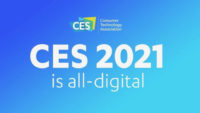 "Steve and I have described it as an 'ingredient' technology," she explained. "We are seeing this throughout every product category from vehicles to smart homes. And don't forget that audio and voice are also an integral part of AR and VR. Vehicle technology is one of the more interesting ways that voice will be used as an ingredient technology."
Remote learning is an area that has surged this last year and, said Koenig, "the innovations won't stop." "Even when we can finally get back to in-person classrooms and training centers, online sessions will stay in place," he predicted. "In the future, it will extend opportunities, and school systems and universities will lean into them. It will be a real economic benefit for economies, educators, students."
In response to a question about the most interesting health technology this year, Rohrbaugh pointed to smart masks. "I think we'll see different versions of them," she said. "Smart masks can track conditions around you including pollution, by sending notifications to your smart phone. We'll see this kind of consumer focus this week. I'm also excited about pet robots that are focused on assuaging anxiety for folks of all ages."
In response to the observation that nascent 5G has raised complaints of spotty coverage, Koenig noted that industrial IoT will "bring more antennas and ameliorate weak spots in the network." "It takes time to build this out," he counseled, noting that 135 commercial 5G networks are up and running. He stated that 5G networks will soon be pushing beyond metropolitan areas. "In the next few years, 5G will overlay the entire digital economy," he promised.
Another question asked if CTA thinks COVID-19 will "accelerate shrinkage of brick-and-mortar." Rohrbaugh said that, rather than shrinking these companies, technology is actually helping them "get products into customers' hands."
Koenig commented on TV technology at CES 2021. "We'll see more 8K displays, from LG, Samsung, HiSense," he said. "And OLED continues to gain momentum in European and Asian markets as well as the U.S., with more competition around price. Beyond that, we've already heard from LG in innovations in smart TV platforms including command and control with voice."
Audio streaming also has a strong future, said Koenig, who reported it is now a $10+ billion industry with double-digit growth. "People are streaming audio content," he said. "And noise-canceling technologies sound better every year."
Click here for more information on the speakers, panels and new products at CES 2021 (#CES2021).
To view or download the full 30-minute video, CTA's 2021 Tech Trends to Watch, click below. (Video content courtesy of the Consumer Technology Association. All rights reserved.)
Topics:
5G
,
8K
,
Audio
,
Augmented Reality
,
Brick-and-Mortar
,
CES
,
CES 2021
,
Coronavirus
,
COVID-19
,
CTA
,
Hisense
,
IoT
,
Lesley Rohrbaugh
,
LG Electronics
,
Microsoft HoloLens
,
Mixed Reality
,
OLED
,
Remote Learning
,
Robots
,
Samsung
,
Smart Glasses
,
Smart Homes
,
Smart Masks
,
Smart TVs
,
Smart Vehicles
,
Steve Koenig
,
Virtual Reality