Consumer Technology Association (CTA) president and chief executive Gary Shapiro and CTA executive vice president Karen Chupka helped kick off the 54th annual Consumer Electronics Show (CES) with an emphasis on how the technology industry has innovated in the face of a worldwide pandemic. "The last 12 months have been a challenge like no other for everyone in the world," said Shapiro. "But technology has been a stabilizing, unifying force keeping us connected to schools, jobs, doctors, families and friends."
Microsoft chief executive Satya Nadella joined the conversation to talk about this "unprecedented year, due to the pandemic." "At the same time, I'm stunned by the level of economic activity and productivity and even social connection despite all these constraints," he said. "We're seeing broad adoption of digital technology in our lives." He emphasized that, "the future of work will require lots more flexibility … on how to collaborate, learn, and define well-being."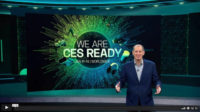 Shapiro reported that CES 2021 features delegations from France, Hong Kong, Italy, Japan, Netherlands and South Korea. He also noted bipartisan support for 5G, bringing high-speed broadband to underserved and rural areas and the need for government to set rules on investment and deployment of autonomous vehicles.
"With a new administration in the White House, we hope to resume thoughtful, fact-based discussion about how technology is a force for good," said Shapiro (click on the image above to watch the full presentation). "And while our industry needs reasonable guardrails so that tech companies know what's legal and what isn't, technology is a tool and we have the opportunity to use it for good."
IBM global managing director and chief technology officer Bridget Karlin, who is also the new chair of the CTA Executive Board, focused on how artificial intelligence is poised to become an almost $16 trillion global industry by 2030. "AI solved unprecedented challenges as a result of COVID," she said, adding that it is being used to mitigate supply chain challenges among other tasks. "AI will be behind innovations to such problems as world hunger and ocean pollution. A multi-tiered AI interface can create new opportunities for learning and affordable education for students around the world. AI is solving the toughest problems of today and tomorrow."
Shapiro described how, at CES 2020, CTA announced plans to invest $10 million in funds that help to create more inclusive, diverse workforces. At CES 2021, he announced the latest investment went to women-owned Plum Alley, a New York-based firm that invests in advanced technologies and medical breakthroughs. Plum Alley co-founders Deborah Jackson and Andrea Turner Moffitt described how they have invested $32 million in 23 companies over the last five years.
Chupka announced the winners of the World Bank Global Technology Challenge unveiled at last year's CES and aimed at "sustainable developed focused on healthcare, resilience and bridging the gender divide." Out of 1,000+ applications, 15 companies were selected as finalists. Chupka revealed that Butterfly Network and Tricog were winners of the digital health challenge and MicroMentor by Mercy Corps won the gender challenge.
CTA is expanding its partnership with the World Bank to honor individual innovators, entrepreneurs and government officials that advocate for the advancement of tech in the developing world.
Click here for more information on the speakers, panels and new products at CES 2021 (#CES2021).
[
Video content courtesy of the Consumer Technology Association. All rights reserved.
]
Topics:
5G
,
Andrea Turner Moffitt
,
Artificial Intelligence
,
Autonomous Vehicles
,
Bridget Karlin
,
Broadband
,
Butterfly Network
,
CES
,
CES 2021
,
Coronavirus
,
COVID-19
,
CTA
,
Deborah Jackson
,
Digital Health
,
Gary Shapiro
,
Karen Chupka
,
Mercy Corps
,
MicroMentor
,
Microsoft
,
Plum Alley
,
Remote Learning
,
Satya Nadella
,
Tricog
,
World Bank