During Oculus Connect in Hollywood yesterday, Facebook's virtual reality developer conference, Samsung SVP Peter Koo announced that the new Gear VR headset co-developed by Oculus and Samsung will ship in November, in time for Black Friday, for $99. Consumers can expect a lighter, more comfortable Samsung Gear VR that is compatible with smartphones including the Galaxy Note 5, Galaxy S6 Edge+, Galaxy S6 and Galaxy S6 Edge. The previous $200 version for developers was only compatible with the Note 4 and Galaxy S6.
Oculus CEO Brendan Iribe says the two companies have been developing VR together for two years.
"The phone powers the virtual reality experience, while the headset is worn like a pair of goggles," explains Re/code. "Each of those phones costs about $550 to $780 if purchased unlocked without a carrier plan."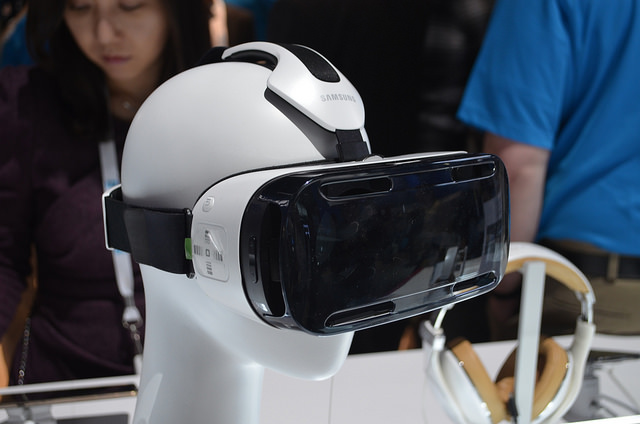 Oculus also announced a virtual video game arcade and VR apps from Hulu, Netflix, Twitch and Vimeo.
"While these apps won't feature content like the 360-degree videos recently launched for Facebook," notes Re/code, "they'll simulate being in a space like a living room or movie theater while watching content on a 2D screen."
Related:
Netflix, Hulu to Launch Virtual-Reality Apps, Variety, 9/24/15
Oculus Connect: Company Chief Scientist Outlines Research Agenda Including Touch, Hearing and Smell, The Hollywood Reporter, 9/24/15
Virtual Reality Content Creation Platform Voxelus Launches, The Hollywood Reporter, 9/24/15
Facebook Takes 360-Degree Video Out For a Spin, The Wall Street Journal, 9/23/15
Topics:
Apps
,
Black Friday
,
Brendan Iribe
,
Content Creation
,
Developers
,
Facebook
,
Galaxy Note 4
,
Galaxy Note 5
,
Galaxy S6
,
Galaxy S6 Edge+
,
Gear VR
,
Goggles
,
Headset
,
Hollywood
,
Hulu
,
Mobile
,
Netflix
,
Oculus
,
Oculus Connect
,
Peter Koo
,
Research
,
Samsung
,
Samsung Gear VR
,
Smartphone
,
Streaming
,
Twitch
,
Video
,
Vimeo
,
Virtual Reality
,
Voxelus
,
VR
,
VR Apps