During a visit with U.S. tech leaders, Chinese President Xi Jinping emphasized cooperation between Chinese and U.S. technology sectors, and highlighted opportunities for U.S. commercial relations in light of China's "relatively high" growth over a long period of time. Although recent research has tied Chinese hacks to a military unit there, Xi protested that both countries are victim of cybertheft and all hackers are subject to international law. He vowed to ease issues creating friction between the two countries.
The Wall Street Journal quotes Xi as noting that China's faster-than-average growth as well as its 600 million Internet users and 1.2 billion mobile phone users are sources of great potential for U.S. businesses, and that some friction is "only natural" as the two countries create more business ties. Chinese companies want the U.S. to loosen restrictions on civilian high-tech exports, and generally lower barriers to Chinese investment in the U.S.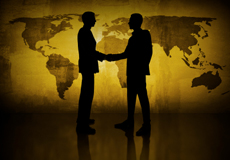 The list of attendees from both countries was a "who's who" of top business leaders: Microsoft's Satya Nadella, Apple's Tim Cook, Amazon's Jeff Bezos and Cisco Systems' John Chambers, along with 15 Chinese executives including Alibaba Group Holding's Jack Ma, Tencent Holdings' Pony Ma and Baidu's Robin Li.
China is interested in U.S. ties for "advanced manufacturing, clean energy, environmental protection, finance, IT, and modern agricultural infrastructure," says WSJ, and supports both regional headquarters established in China by large U.S. companies and investment from smaller U.S. companies.
Xi stressed he will defend those companies' intellectual property rights, noting that "the newly established IPR courts are working smoothly." But he did not address reports tying cyberattacks to the People's Liberation Army Unit 78020, a military intelligence arm based in China's southwest, and a hacker collective known as Naikon, notes WSJ.
Xi paints China as a victim of U.S. cyber-spying, citing information revealed by former U.S. security contractor Edward Snowden.
"Cybertheft of commercial secrets and hacking attacks against government networks are both illegal," said Xi to WSJ. DGI's Center of Intelligence Research and Analysis director James Mulvenon describes Chinese hacking as "grassroots level," by which groups are "encouraged with relatively vague guidance to go out and develop hundreds of accesses and bring back lots of data."
Related:
Xi Jinping Hears Tough Complaints of American Business, The New York Times, 9/23/15
Topics:
Alibaba Group
,
Amazon
,
Apple
,
Baidu
,
China
,
Cisco Systems
,
Cyber-Spying
,
Cyberattacks
,
Cybersecurity
,
Cybertheft
,
DGI
,
Edward Snowden
,
Hackers
,
Intellectual Property Rights
,
Jack Ma
,
James Mulvenon
,
Jeff Bezos
,
John Chambers
,
Microsoft
,
Mobile
,
Naikon
,
People's Liberation Army
,
Pony Ma
,
Robin Li
,
Satya Nadella
,
Tencent Holdings
,
Tim Cook
,
Xi Jinping