Some of the 2014 Winter Olympic Games will be recorded in Ultra HD according to Tony Werner, Comcast's chief technology officer. The cable company will integrate a new app in Samsung's 4K TVs to allow for on-demand streaming of the games broadcast from Sochi. Part of the motivation to record in UHD is to "stimulate the imagination" of viewers to see what 4K can do for sports, Werner explained at a CES panel discussion on UHD content.
The panel was moderated by Carolyn Giardina of The Hollywood Reporter.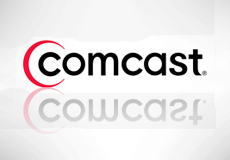 "We feel comfortable that we have the infrastructure to deliver 4K to the home, but we are more concerned with having enough content in the vault. To that end, we will be doing some stuff to stimulate the imagination with the Winter Olympics," said Werner. "We'll be showing what high frame rates and higher resolutions can do for sports to stimulate people's imagination and also, hopefully, the rest of the content ecosystem."
Comcast "is working on the service with content owners including NBCUniversal," notes THR.
Other members of the panel included 3net CEO Tom Cosgrove and Sony Pictures Technologies President Chris Cookson, who said the post-production industry should be "confident" that it'll be able to make up for the cost of establishing a 4K infrastructure. THR says the panel seemed to agree that post production costs for 4K were an "impediment," but that should change over time.
"Progress is being made," said Cosgrove. "The first productions will be more expensive, but over time the cost will reduce."
Cookson added that content creators have been concerned about the amount of data 4K production requires.
"Fact is, the codecs now being used have knocked the data down considerably," he said. "The amount of data is manageable. The cost to do 4K in terms of the storage and processing today is about the same to do 3D a couple of years ago. We believe the costs will come down. We believe 4K is practical to do, It's hard to believe that 4k will not be an accepted fact in 4-5 years."
Topics:
3net
,
4K
,
Broadcast
,
CEA
,
CES
,
Comcast
,
Consumer
,
Content
,
Cookson
,
Cosgrove
,
Electronics
,
Frame Rate
,
Game
,
HD
,
HFR
,
Hollywood
,
Las Vegas
,
NBCUniversal
,
Olympics
,
On Demand
,
Panel
,
Post Production
,
Reporter
,
Resolution
,
Russia
,
Show
,
Sochi
,
Sony
,
Sony Pictures
,
Sports
,
Stream
,
Streaming
,
Television
,
TV
,
UHD
,
Ultra
,
Ultra HD
,
Werner
,
Winter