Curved screens, 4K displays and other impressive television technologies have been making a splash at this year's CES, but some experts claim they're not fooled by the latest developments, saying TV innovation is "stuck in a rut." Last year, 3D was all the rage, but that has all but disappeared from the mainstream, and some say these advancements are mere distractions from the fact that watching our favorite channels and shows can be a hassle.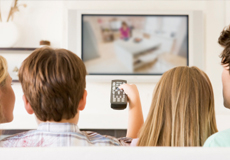 According to The Wall Street Journal staff writer Farhad Manjoo, "we are witnessing an industry out of ideas, a business desperately casting about in the dark for something — anything — that might persuade us to part with our money." Those "desperate" moves are trends like 3D and 4K intended to show how cool television can be.
"It remains a big hassle to find something you want to watch, or to stream TV shows and movies without consulting a handful of remotes, or to navigate your cable system's byzantine menus," Manjoo writes. The fact that cable providers are unwilling to unbundle channels and TV lovers are forced to subscribe to a number of streaming services to watch their favorite shows indicates a problem in the industry that's difficult to solve.
TV manufacturers, Manjoo says, aren't able to make deals with entertainment companies, "which would be necessary to fix the problem of having to subscribe to many services in order to watch everything that you would like." Aside from expensive efforts like that of Microsoft's with the Xbox One, the issue of bundled channels and their unappealing subscription costs are in the hands of a select few.
As for 4K content, Manjoo says, entertainment companies don't have enough incentive to produce it. "But without much content, there's little reason to buy a 4K TV." If 4K is really going to take off like everyone says it well, consumers best wait a couple of years to buy a cheaper display — and in the meantime hope cable and streaming providers come up with better content delivery systems.
Topics:
2014
,
3D
,
4K
,
Broadcast
,
Bundle
,
Cable
,
CEA
,
CES
,
Channel
,
Console
,
Consumer
,
Content
,
Curved
,
Delivery
,
Display
,
Distribution
,
Electronics
,
Entertainment
,
Game
,
Gaming
,
HD
,
High Def
,
Hub
,
Journal
,
Las Vegas
,
Mainstream
,
Manjoo
,
Microsoft
,
Network
,
Production
,
Screen
,
Show
,
Stream
,
Streaming
,
Subscribe
,
Subscription
,
Television
,
TV
,
UHD
,
Ultra
,
Video
,
Wall Street
,
Xbox
,
Xbox One