During the Yahoo keynote presentation, CEO Marissa Mayer announced a mobile acquisition, introduced a number of new products and services, and entertained the crowd with a "Saturday Night Live" skit featuring actual "SNL" performers. Mayer announced that Yahoo now has more than 400 million monthly mobile users, a figure which excludes social network Tumblr, purchased last year. Tuesday's presentation was largely about simplifying Yahoo's business and a focus on content creation and related advertising.
"Videos and digital magazines, the CEO said, are now two of the company's four main focus areas along with search and communications," explains The Wall Street Journal.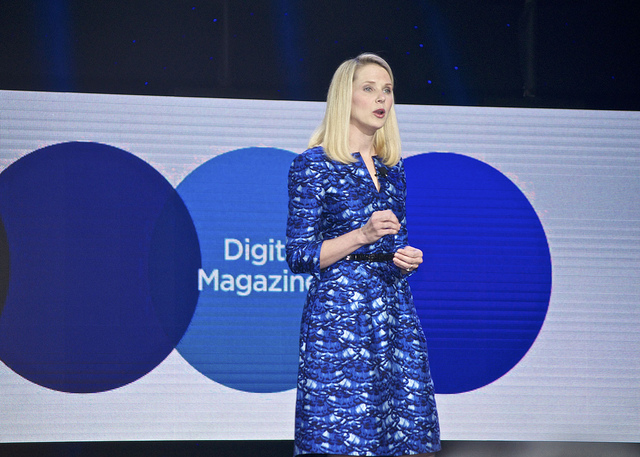 Mayer announced that Yahoo "had acquired Aviate, an 'intelligent home screen' startup that automatically organizes apps based on contextual clues from how someone interacts with a mobile phone," reports The New York Times. "She said Aviate would be used within Yahoo apps to help suggest content for people."
"Imagine if your phone can deliver the right experience to you at the right time instead of you having to search for it," Mayer said. "What if your phone suggested music and map apps when you got in your car or fitness apps when you got into the gym?"
Nick D'Aloisio, the teenage founder of Summly (acquired by Yahoo last year), demonstrated the new Yahoo News Digest app, designed to simplify the news. Yahoo Digital Magazines, Tumblr-powered sections of Yahoo News, were also showcased. One of the first Digital Magazines is Yahoo Tech, a section led by notable columnist David Pogue.
"Very few of us head to the front steps to get our newspaper, but instead we reach for our mobile phones to get our headlines," said Katie Couric onstage, discussing her move to serve as Yahoo's global anchor. "I think accuracy has been the casualty of immediacy; linking has replaced reporting," she said, promising the pursuit of "real journalism."
Yahoo's strategy of using big-name talent to target a mainstream audience should appeal to advertisers.
"The company is introducing several new ad products under a unified brand called Yahoo Advertising," notes NYT. "The company said it was also introducing a new buying platform, called Yahoo Ad Manager, which will offer a number of tools for advertisers to manage the kind of ads they buy and the audience they can reach. Yahoo is also expanding some of the advertising tools on Tumblr."
A live version of "Weekend Update" was performed featuring Cecily Strong alongside Kenan Thompson portraying Rev. Al Sharpton, who referred to Yahoo as Yoo-hoo. "Who woulda thought that a chocolate milk company would turn into one of the biggest technology companies in the world?" he asked.
The hour-long presentation also included a performance by musician John Legend.
Topics:
Ad
,
Address
,
Advertising
,
Anchor
,
App
,
Aviate
,
CEA
,
CES
,
Communication
,
Consumer
,
Content
,
Context
,
Contextual
,
Couric
,
Digest
,
Electronics
,
Fitness
,
Journalism
,
Keynote
,
Las Vegas
,
Legend
,
Magazine
,
Manager
,
Map
,
Marissa Mayer
,
Mobile
,
Music
,
News
,
Newspaper
,
Phone
,
Pogue
,
Scren
,
Search
,
Sharpton
,
Show
,
Smartphone
,
SNL
,
Strong
,
Summly
,
Thompson
,
Tumblr
,
Video
,
Yahoo
,
Yoo-hoo