Spin is a new mobile video chat service that allows up to 10 parties per session. The app was created by a San Francisco company called Net Power & Light, known primarily for generating educational apps. Spin allows individuals to share photos and videos, and participants can simply swipe in and out of chats, known as "gatherings." The app has been released for iPhone, iPad and iPod touch, with an Android version coming soon.
"When you launch the Spin app, you're presented with a large tile representing yourself and a series of smaller tiles arranged in piles, or 'stacks.' These include stacks for people you have either chatted with before, or those you'd like to invite to a gathering; invitations to gatherings on future dates; and photos and videos you may want to pull into a gathering," reports The Wall Street Journal.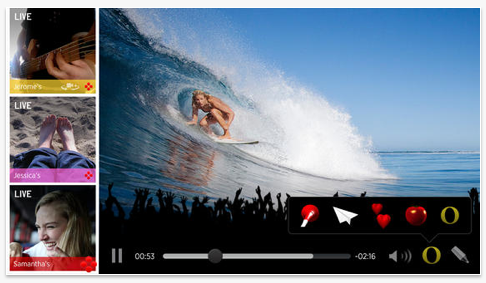 "The photos can either be those on your own device or those you've stored on Facebook or Flickr," notes the article. "The videos can be from YouTube, or from your own Facebook videos. You can participate in a gathering without sharing any photos or videos. These stacks and tiles appear to float atop a background photo of the ocean, and you can flick them around on the screen in any arrangement you like."
A gathering can be initiated in two different ways. "You just drag a tile or tiles from your People stack onto your own tile, and Spin generates invitations to the people to join the gathering," explains WSJ. "If they have the Spin app and are using it at the moment, they can join in seconds. If they aren't active in Spin, they get an email invitation."
The other option is to "set up a gathering for a specific date and time — say, the time of a televised sports event. Each person gets an email invitation to the planned gathering. If they don't have Spin, the invitation includes a link to learn about it and get the app. Spin has accounts called Spin IDs. They aren't needed to take part in gatherings but you need one to convene a gathering."
In a gathering, people can see and hear each other, share photos and videos, and more. They can doodle in various colors and initiate effects such as a stream of hearts or a standing ovation. The effects may not be for everyone, but they can be entertaining at times, such as during a sports game. Participants can also adjust audio to either emphasize the video or the conversation about the video.
Because Spin is not a social network, it does not intend to gather personal information about users. Instead, it hopes to generate revenue by selling premium features.
"The company says it is devoted to privacy," reports WSJ. "Spin says only people who are invited can see who is in a gathering you convene and nobody can join unless you invite them, or someone you've invited does so. Similarly, nobody can drag you into a gathering without your consent, and nobody can see your photos and videos unless you choose to show them."
Topics:
Android
,
App
,
Apple
,
California
,
Email
,
Facebook
,
Flickr
,
Free
,
Gathering
,
invitation
,
iPad
,
iPhone
,
iPod
,
iPod touch
,
Mobile
,
Net Power & Light
,
Photo
,
Photo
,
Privacy
,
San Francisco
,
Sharing
,
Smartphone
,
Social
,
Social Media
,
Spin
,
Spin ID
,
Sports
,
stacks
,
Tablet
,
Tile
,
Video
,
Video
,
Video Chat
,
YouTube