Maryland-based VisiSonics, a 3D spatial audio company, is revealing its licensable hardware and software audio solutions at CES 2022 in Las Vegas this week, booking appointments for one-on-one product demonstrations at its Venetian Resort suite (#3310). "We've developed two lines of technology to capture audio with all the directions preserved," explains chief technology officer and co-founder Adam O'Donovan. "Our 64-microphone array on a sphere to capture audio led to our RealSpace 3D sound engine that allows 3D spatial audio to be personalized."
VisiSonics chief executive officer and co-founder Ramani Duraiswami notes that, "today's consumers expect to feel truly immersed in the video games they play, music they listen to, movies they watch and in their metaverse experiences."
The company's proprietary physics-based technology came out of a project founded by computer scientists in 2009 at the University of Maryland. In December 2021, VisiSonics and University of Maryland inked a partnership to create licensable audiogram technology that offers customization and personalization abilities.
According to O'Donovan, personalizing spatial audio for a single individual requires a rendering of the outer ear and can take hours. "Instead, we put an ultra-fast reciprocal head-related transfer function (HRTF) measurement system in the ear and play one signal for the mic-array, recording all locations at once," he said. "That takes 30 seconds opposed to hours."
In this way, VisiSonics developed a huge database of HRTFs, which enables the technology to generate a personalized ear profile that can be downloaded into content or a compatible headset.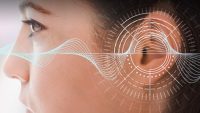 "Our audio engine is a physics engine that not only interacts with your head and ears but the environments around you," he added. "It's a complex tapestry and if you don't do all these components accurately, it falls flat. We simulate all of that and in real-time."
VisiSonics will also be employed at the upcoming HPA Tech Retreat, which will use cutting edge technologies to explore total immersion in virtual production. The Supersession, on February 22, is co-curated by ETC's director of virtual and adaptive production Erik Weaver along with HPA's Kari Grubin.
"We hope to use some of our audio capture tools to measure the acoustic environments on some of these virtual sound stages," explains O'Donovan. "They can identify where problems are coming from and allow an acoustician to decide what treatment is needed."
In the early days of its development, says O'Donovan, VisiSonics' system was deployed for military applications. VisiSonics also licensed its technology to Oculus in 2012, just as it was being purchased by Facebook; it's now being integrated into gaming engines and vehicles.
VisiSonics also recently signed a partnership deal with DSP Concepts, which offers an embedded audio technology. With DSP's Audio Wave development framework, RealSpace 3D spatial audio can be embedded into efficient chipsets, for use with headsets among other products. VisiSonics has thus far partnered with Tesla, SpaceX, Ford and BMW for use with their acoustic environments, said Duraiswami.
For more on CES 2022:
CES Hashtag — #CES2022
CES Twitter Handle — @CES
CES Facebook Page — facebook.com/CES
Topics:
Adam O'Donovan
,
Audio
,
Audio Wave
,
Audiogram
,
BMW
,
CES 2022
,
CTA
,
DSP Concepts
,
Erik Weaver
,
Facebook
,
Game Engine
,
HPA Tech Retreat
,
HRTF
,
Kari Grubin
,
Oculus
,
Ramani Duraiswami
,
RealSpace
,
RealSpace 3D
,
SpaceX
,
Spatial Audio
,
Tesla
,
THX
,
University of Maryland
,
Virtual Production
,
VisiSonics