LG Display is rolling out its next generation in OLED technology, OLED.EX, which the company says will "enhance brightness up to 30 percent compared to conventional OLED displays." The name is an acronym of "Evolution" and "eXperience," and LG is tapping both to improve what is considered OLED's weak link: lack of brightness compared to more expensive Mini LED displays. Since OLED displays "are self-emissive by nature" — without a separate backlight source — they achieve deep blacks and rich color expression. LG Display is tackling the brightness issue with a "deuterium and personalized algorithm-approach" to distinguish OLED.EX.
Deuterium, also known as "heavy hydrogen," can be used in compounds that make organic light-emitting diodes that display stronger light and do so more efficiently, says LG Display, which is a separate unit from LG Electronics. LG Display fabricates OLED and LCD displays for use in third-party devices that range from TV sets and computer monitors to mobile devices and vehicles.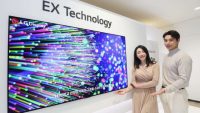 Employing artificial intelligence for LG Display's machine learning, OLED.EX is powered by personalized algorithms that predict the usage of "up to 33 million organic light-emitting diodes based on 8K OLED displays after learning individual viewing patterns," precisely controlling the display's energy input "to more accurately express the details and colors of the video content being played." The EX technology has also resulted in a slimmer bezel — from the original 6mm to 4mm based on 65-inch OLED displays.
At CES 2022, LG Display will also showcase concepts based on its transparent screens, including the consumer-based OLED Shelf as well as physical retail applications such as Shopping Managing Showcase, Show Window (below), and Smart Window.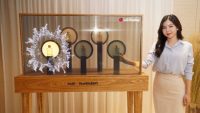 Comprised of two 55-inch transparent OLED displays stacked with a shelf on top, the OLED Shelf is "ideal for the living room, where it can display art, a TV show, or one on each of the two screens simultaneously. Always on Display Mode ensures that the screen can stay on all the time. If there was a piece of art on display, that image could stay put just like a painting, all while blending into the wall behind it," reports The Verge.
In addition, Engadget says two flexible OLED prototypes will be on display. The Virtual Ride stationary bike has "three vertical 55-inch OLED displays that form one continuous screen in front and above the rider. The topmost panel has a 500R curvature radius. According to LG Display, that's the most extreme curve among large screens to date," The Verge writes.
The company's Media Chair (above) is a recliner with an attached 55-inch OLED TV featuring an immersive 1,500R curvature and LG's Cinematic Sound technology, "allowing the display to create sound without external speakers."
For more on CES 2022:
CES Hashtag — #CES2022
CES Twitter Handle — @CES
CES Facebook Page — facebook.com/CES
Topics:
8K
,
Algorithm
,
Artificial Intelligence
,
CES 2022
,
Cinematic Sound
,
CTA
,
Curved Display
,
Curved Screen
,
LCD
,
LG
,
LG Display
,
Machine Learning
,
Media Chair
,
Mini-LED
,
OLED
,
OLED Shelf
,
OLED.EX
,
Shopping Managing Showcase
,
Show Window
,
Smart Window
,
Television
,
Transparent Screens
,
Virtual Ride