Several ultra portable projectors were on display at CES 2022. Among the more interesting short throw models were products from Anker, Hisense, Samsung and XGIMI, although the show also featured a range of projector types from the likes of BenQ, JVC, Panasonic, Vankyo and ViewSonic. Generating the most buzz in the short throw category was Samsung's $899 projector, The Freestyle, that can project from 30 to 100 inches and comes equipped with a 1080p HDR-capable view and 360-degree audio. Also drawing media attention was Anker's upcoming Nebula Cosmos Laser, which comes in 4K ($2,199) and 1080p ($1,599) versions, and is expected to ship by late March.
According to Samsung Electronics, "The Freestyle (below) offers first-of-its-kind technology and flexibility to deliver optimal viewing and entertainment for customers looking to bring video and audio content wherever they go."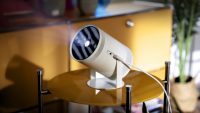 Topping numerous "Best of CES" lists, the 830-gram device features auto focus, auto leveling features, and a "versatile cradle" that "allows rotation of up to 180 degrees," which enables users to easily screen on any flat surface, including "tables, floors, walls or even ceilings." Samsung describes The Freestyle as "a projector, smart speaker and ambient lighting device all rolled into one lightweight, portable device."
Variety, which labeled the projector "the Buzziest Product of CES 2022," pointed out that the "launch video went viral, racking up more than 1.2 million views on YouTube in two days."
When not streaming video at up to 550 lumens of brightness, The Freestyle offers mood lighting via an ambient mode and translucent lens cap. It can also play music and pair with visual effects. The ultra portable is seen as ideal for Gen Z and Millennials who may want to watch Netflix and TikTok content on a larger scale.
Powered by Tizen, The Freestyle touts some of the same features as Samsung Smart TVs, "with built-in streaming services and mirroring and casting features compatible with both Android and iOS mobile devices," Samsung says. "It is the industry's first portable projector that is certified by global major OTT partners" and the first "to include far-field voice control."
Gizmodo suggests that the Samsung projector "isn't exactly being marketed as a much cheaper alternative to a TV," but it can turn "anywhere you travel into a little home theater" since it "is designed for those who want to make the world their living room." "Outdoorsy types will love that the Freestyle comes with an optional waterproof case and USB-C portable battery," notes the write-up.
The Freestyle is expected to ship in the coming months. At press time, the pre-order page indicated that "Pre-orders are temporarily on hold. Sign up to get an alert when pre-order re-opens soon."
Home theater fans will likely find interest in Anker's new portable Nebula Cosmos Laser 4K projector (above), which provides 2,400 ANSI lumens of brightness projecting up to 150 inches, accompanied by side-firing 30-watt speakers. And for those with wireless Internet connectivity in the vicinity — indoors or outdoors — the projector runs Android TV 10 for access to streaming services, gaming and media players.
"To streamline its setup," explains Gizmodo, "the Nebula Cosmos will automatically perform keystone and alignment corrections to produce a perfectly rectangular image, and adjust focus all on its own in just three seconds time. Not having to perform manual calibrations every time you relocate it to another room is a big plus." However, CNET notes, "the one thing the Comos 4K doesn't have is a built-in battery — AC power is required."
For more product details and related videos, visit the Nebula Cosmos Kickstarter page.
Also of note was a 120-inch ultra-short throw system from Hisense that delivers 4,000 ANSI lumens (screen brightness up to 430 nits) and features a built-in Harman Kardon customized audio solution with rollable speakers and a separate wired subwoofer. Check out our coverage of the CES Central Hall for more details.
Related:
Sparsely Attended 2022 CES Still Offered Some Projector News, Projector Central, 1/11/22
Hisense Announcing Two New UST Projectors for CES 2022, Projector Central, 12/30/21
Samsung Launches Surprising New Ultra-Portable 'Lifestyle' Projector, Forbes, 1/5/22
Samsung Freestyle: An Itty-Bitty Portable Projector That Can Put Netflix Just About Anywhere, CNET, 1/6/22
Samsung Freestyle Is an $899 Portable Projector for the TikTok Era, Digital Trends, 1/4/22
CES 2022: BenQ Targets Gamers with 4K X3000i Projector, Videomaker, 1/6/22
XGIMI Debuts New Ultra Short Throw Projector to Consumers at CES 2022, Press Release, 1/11/22
JVC's New 'Entry-Level' Projector Features HDMI 2.1 and HDR10+ Support, What Hi-Fi?, 1/11/22
Topics:
1080p
,
4K
,
Android
,
Android TV
,
Anker
,
Audio
,
BenQ
,
CES 2022
,
CTA
,
Harman Kardon
,
HDR
,
Hisense
,
Home Theater
,
iOS
,
JVC
,
Music
,
Nebula Cosmos Laser
,
Netflix
,
Panasonic
,
Projector
,
Samsung
,
Samsung Electronics
,
Smart Speaker
,
Smart TV
,
Speakers
,
The Freestyle
,
TikTok
,
Tizen
,
Vankyo
,
Video
,
Viewsonic
,
XGIMI