Samsung is sharing more specifics about its Gaming Hub and HDR10+ Gaming standard, unveiled at CES 2022. Samsung's high-end 2022 TVs, including the Neo QLED line-up (Q70 and above) and gaming monitors will support what Samsung Electronics Visual Display Business executive vice president and head of R&D Seokwoo Yong calls "a game-changing experience," with richer, life-like images, variable refresh rates (VRR) of up to 120Hz, automatic HDR color correction on a game-by-game basis, as well as an in-menu streaming hub with access to the Nvidia GeForce, Google Stadia and Utomik cloud libraries.
Though Samsung has yet to provide a specific list of the models featuring the gaming upgrades, the CES 2022 TV press release says the Gaming Hub will be part of the entire 2022 Smart TV lineup as part of the Smart Hub, which "puts content curation and discovery front and center." As per Samsung, Smart Hub includes:
Watch Together — a screen chat app for simultaneous viewing with family and friends.
NFT Platform — an integrated means of "discovering, purchasing and trading digital artwork" and presumably game items.
Smart Calibration — fine-tunes settings for optimal picture quality using either a "basic mode" that calibrates within 30 seconds, and "professional mode" which takes about 10 minutes.
Gaming Hub — allowing players to "discover and jump into" games via streaming games libraries from Nvidia GeForce NOW, Stadia and Utomik, "and that's just the beginning." Presumably the middle will include Microsoft's XCloud, the streaming service for Xbox.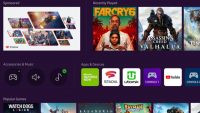 "Microsoft and Samsung prominently partnered on cloud gaming in February 2020, and we got xCloud on a smart fridge," writes The Verge, adding "the Xbox app for smart TVs that [Microsoft executive vice president of gaming] Phil Spencer told us about in November 2020 hasn't materialized yet." Steam is also notably absent at this early stage.
"We are working with partners to bring their best levels of service to our platform," Samsung gaming product director Mike Lucero told The Verge. The Gaming Hub supports console games as well, and according to The Verge will provide passthrough controller inputs for HDMI-connected consoles, "with both PlayStation and Xbox controllers supported at launch."
Samsung's HDR10+ Gaming "slipped under the radar" since it was announced December 23, writes Engadget, calling HDR10+ an apparent "move to counter Dolby Vision HDR for gaming found on Xbox Series X/S consoles." By enabling automated HDR calibration, "the game engine automatically optimizes video game content in real-time," something previously available only for movie and TV series content, Samsung says.
Nvidia GeForce RTX 30 Series, RTX 20 Series and GTX 16 Series GPUs will support the HDR10+ Gaming standard with drivers in 2022.
As for the Samsung TVs on which these extras will be available, one imagines the Neo QLED 8K will deliver an extraordinary gaming experience, with its Neo Quantum Processor, bezel-free Infinity Screen design, and ultra-fine contrast (which game images won't come close to maxing-out).
The 2022 Neo Quantum Processor's advanced contrast mapping with BLU (back-light unit), increases the brightness level from 12- to 14-bit gradation for greater control of the light source — the Quantum Mini LEDs. Samsung's 2022 Neo QLEDs also feature Real Depth Enhancer, a "multi-intelligence picture quality algorithm." This technological advancement creates a greater sense of realism by determining and processing an object on the screen against its background to create a sense of depth.
Pricing on the 2022 Neo QLEDs is TBA, but last year's models started at $2,800 for the smallest Q80, up to $6,500 for the largest Q90. Samsung's 50-inch QN90B won a CES 2022 Innovation Award as "the ultimate TV gaming experience." The 144Hz 4K TV features the new Game Bar, which lets gamers monitor settings, customize the display, "and even expand the game's minimap to assess their surroundings — all in real time."
The QN90B also includes a gamer-centric UI, Game Home, lets users browse, access, and start games from the home screen, even without a console or PC.
Samsung's new game monitor lineup includes the 55-inch curved Odyssey Ark, one of a record nine Samsung monitors to win 2022 CES Innovation Awards in the gaming category.
For more on CES 2022:
CES Hashtag — #CES2022
CES Twitter Handle — @CES
CES Facebook Page — facebook.com/CES
Topics:
CES 2022
,
Curved Display
,
Dolby Vision HDR
,
Gaming
,
Gaming Hub
,
HDR
,
HDR10+
,
Microsoft
,
Mike Lucero
,
Neo QLED
,
Nvidia GeForce NOW
,
Nvidia GeForce RTX
,
Odyssey Ark
,
Phil Spencer
,
Quantum Mini LED
,
Samsung
,
Samsung QN90B TV
,
Seokwoo Yong
,
Stadia
,
Steam
,
Streaming
,
Utomik
,
Video Game
,
Xbox
,
xCloud