Samsung introduced its largest curved monitor ever, the 55-inch Odyssey Ark, which will come with a special stand, enabling it to rotate vertically when it is released Q3. The flexible and curved gaming screen debut came at the end of Samsung's Gaming Hub presentation at CES, although immersive lifestyle applications (like workouts and movies) were also demonstrated in a socially responsible keynote themed "Together for Tomorrow." The Gaming Hub will come with select 2022 Samsung monitors and TVs, and will include access to the cloud libraries of Nvidia GeForce, Google Stadia, Utomik and others as part of Samsung's Bespoke smart TV menu due later this year.
Samsung emphasized that the personalized aspect of sharing the planet means one size does not fit all, a philosophy applied to everything from appliances to ambient lighting. The new portable Freestyle screen projects images at up to 100 inches and doubles as a mood light when not being used to display. Targeting a Gen Z and millennial audience, the versatile device is the size of a small can light and weighs 1.8 pounds.
The Odyssey Ark (above) is a quantum dot Mini LED display featuring a 16:9 aspect ratio. The monitor can be pivoted and tilted on the height adjustable stand to achieve a user's ideal viewing angle. "For gamers, it wraps around your field of view so you can see both ahead and beside you when playing 'Flight Simulator,'" reports Engadget. "But it can also be flipped 90 degrees into a portrait orientation for work, showing a Zoom feed, spreadsheets and whatever else you need to see."
Customized options for refrigerators, vacuums and more are available through Samsung's Bespoke appliance lineup that also includes dishwashers, ranges and over-the-range microwaves as well as washers and dryers. And tying it all together, Samsung's Family Hub, connecting users to their AI-informed appliances through six SmartThings services that manage household chores.
To that end, Samsung also announced itself a founding member of the Home Connectivity Alliance (HCA), geared toward fostering interoperability between devices across brands, and enhancing consumer security and safety.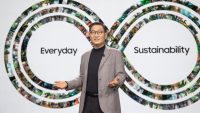 As the first keynote of CES 2022, Samsung's vice chairman, CEO and head of Device eXperience (DX) Jong-Hee (JH) Han was welcomed to the stage with a fist-bump from CTA president and CEO Gary Shapiro. Han opened with a focus on "everyday sustainability," emphasizing even incremental steps can lead to big change.
A partnership with Patagonia "will help fight plastic pollution by enabling Samsung washing machines to minimize microplastics from entering waterways through laundry cycles," according to Samsung's CES news release. Separate from floating plastics, "scientists estimate that the ocean floor alone is now home to over 14 million tons of what are called 'microplastics,'" according to Samsung.
"This is a serious problem, and not one we can solve on our own," Patagonia director of philosophy Vincent Stanley said via virtual appearance at Samsung's keynote, describing the initiative as "a perfect example of the kind of collaboration we all need to help turn the tide of climate change and restore nature to health."
The company is also reducing its carbon footprint with a first-of-its-kind SolarCell Remote, which eliminates battery waste with a built-in solar panel that can be charged both day and night. By 2025, Samsung plans to make all of its TVs and phone chargers operate on "near-zero standby power," consuming almost no energy when not in use.
For more on CES 2022:
CES Hashtag — #CES2022
CES Twitter Handle — @CES
CES Facebook Page — facebook.com/CES
Topics:
Artificial Intelligence
,
CES 2022
,
CTA
,
Energy-Efficient
,
Freestyle
,
Gaming Hub
,
Gary Shapiro
,
Gen Z
,
Google Stadia
,
HCA
,
Home Connectivity Alliance
,
Jong-Hee Han
,
Millennial
,
Nvidia GeForce
,
Odyssey Ark
,
Patagonia
,
Samsung DX
,
Samsung SmartThings
,
Smart Appliance
,
Smart TV
,
SolarCell Remote
,
Sustainability
,
Utomik
,
Vincent Stanley