CES held its first-ever panel discussion on NFTs – non-fungible tokens for the uninitiated – with two experts who have grown up with the nascent industry sector. United Talent Agency head of digital assets Lesley Silverman noted that her company established the new division in March 2021. Her guest was Art Blocks founder and CEO Erick Calderon, who first got involved with NFTs in 2017 by following a thread on Reddit. Both had advice for newbies: Don't let the jargon intimidate you and store your seed phrase in a cold storage device.
Silverman and Calderon alternatively defined some of that jargon and delved into the deeper mysteries of Web 3.0, smart contracts, blockchain and secondary markets. First, NFTs: Calderon notes that a dollar bill is "fungible" because they are all interchangeable. NFT's are "non-fungible" in that each one is unique. "NFTs are guaranteed to be 100 percent unique in a way that is provable via blockchain," he explained.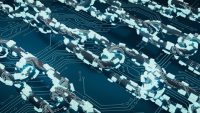 His first experience in NFTs was when Larva Labs, on a Reddit thread, encouraged people to claim assets from their new project CryptoPunks. Calderon realized that, rather than a private project, the fact that CryptoPunks was launched on blockchain meant that those who claimed assets would have a vested interest in them. He claimed a few of the 88 Zombies for a $35 transaction fee, but didn't realize that, within short order, these assets would be worth real money. He began selling the Zombies for $200; one just sold for $5 million.
But he was hooked and created Art Blocks to use his coding skills to create what is called generative art, which describes "art created over time with use of an autonomous system." For Art Blocks, Calderon created a new generative art minting system whereby the artist and buyer accept whatever is randomly generated from the algorithm, as opposed to the artist endlessly iterating. Art Blocks is now a corporation with a full-time staff and millions in transactions.
Silverman brought up the fact that NFTs exist within a Web 3.0 environment. "There are many definitions of Web 3.0," said Calderon. "But for me it didn't happen until I logged into a website with authenticated credentials of a blockchain address. Your ownership isn't based on a username or password but cryptographic proof of who you are." Silverman noted that, whereas a year ago, creating a MetaMask crypto wallet and gateway to blockchain apps was complicated, it's gotten a lot easier.
"The moment you register that seed phrase, you enter a new phase of your life, and you have to treat it like the valuable asset you have," warned Calderon. "And be careful with your private keys. This is still the Wild West."
For Silverman, coming from the contemporary art world, her first draw to NFTs was the understanding that smart contracts guaranteed artists' participation in an on-going revenue stream. "I consider that revolutionary and I knew it would upend the art world," she said.
Calderon noted that, because a smart contract is operated by computer, "it's also the most ruthless contract in the world." He pointed out that it's the secondary market for NFTs that allow artists to participate in their own success. "OpenSea is the largest market for the secondary market, with creator royalties built into their contracts," he said. "We hope that as other marketplaces pop up, they also respect that."
For more on CES 2022:
CES Hashtag — #CES2022
CES Twitter Handle — @CES
CES Facebook Page — facebook.com/CES