ETC's George Gerba visited the CES Unveiled show floor in Las Vegas Monday evening looking for companies and products that would be of interest to our members, illustrate emerging trends, or are simply unusual. Gerba discovered a range of compelling technologies across areas such as blockchain, non-fungible tokens, Li-Fi, wearables, large-scale video screens, the metaverse, remote work, cell signal boosters, health, batteries and more. Among the more interesting companies at CES Unveiled this year were Icecap, Oledcomm, Somalytics, VideowindoW, Toraru, SureCall, Biospectal, Prinker, Airxom and Nanotech Energy. 
NFTs and digital currencies are one of three new categories at CES 2022 (food tech and space tech are the other two). Icecap uses the Ethereum ERC721 NFT (non-fungible token) standard to give diamonds their own digital tokens. The unique token represents the rights to a single diamond and enables that diamond to function as a tradeable asset. The pitch is that Icecap enable you to safely add diamonds to your investment portfolio via blockchain technology.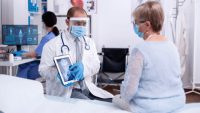 Oledcomm has developed networking technology, tablets and other products that communicate via Li-Fi (Light Fidelity). The company unveiled a Li-Fi tablet for home and home-office (above, shown for medical use). Its patented technology modulates invisible infrared spectrum at more than 10 million times per second to convert data into binary code in an optic equivalent of Morse code. Li-Fi has a latency 100 times less than Wi-Fi. The signal is robust, stable and cannot be intercepted outside of the room.
Nanotech Energy announced customizable, non-flammable lithium-ion batteries that utilize monolayer graphene, which charge faster, hold a charge longer, and are safer than traditional lithium batteries. The use of monolayer graphene is a significant environmental advance. Nanotech Energy is a Los Angeles-based company founded in 2014 by Dr. Jack Kavanaugh and noted UCLA scientists Dr. Richard Kaner and Dr. Maher El-Kady.
For more on CES 2022:
CES Hashtag — #CES2022
CES Twitter Handle — @CES
CES Facebook Page — facebook.com/CES
Topics:
5G
,
Airxom
,
Biospectal
,
CES 2022
,
CES Unveiled
,
COVID-19
,
CTA
,
ETC@USC
,
Ethereum
,
GENCHI
,
George Gerba
,
Health
,
Icecap
,
Jack Kavanaugh
,
Li-Fi
,
Lithium
,
Maher El-Kady
,
Metaverse
,
Mobile
,
Nanotech Energy
,
NFT
,
Prinker
,
Remote Work
,
Richard Kaner
,
Somalytics
,
SureCall
,
Toraru
,
UCLA
,
Video
,
VideowindoW
,
Wi-Fi