Sony raised the curtain on its smart car efforts at CES 2022, where CEO Kenichiro Yoshida announced the company will this spring "commercially launch" Sony Mobility, to "redefine" the automotive experience. Yoshida — who managed to upstage "Spider-Man: No Way Home" star Tom Holland at Sony's CES podium — wheeled out a new SUV prototype for its Vision-S EV model. The first Vision-S was introduced at CES 2020. The presentation also featured Sony's virtual production tools, specs and features of an upcoming VR headset for the PS5, and new alliances between video game properties, sports and other entertainment media.
Sony's Mobility announcement took the world by surprise. Early Tuesday the company posted a YouTube "product movie" showing off the tech-packed Vision-S EV, with always-on 5G connectivity and 40 sensors inside and out. The mobile gaming possibilities with inside-the-vehicle sensors are mind-boggling, and as recently as January 2021 Car and Driver reported the Vision-S was a mere development tool for PlayStation games.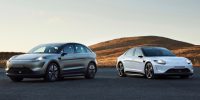 Hours after the Tuesday press conference, Sony posted a press release stating: "In order to further accelerate and make new proposals that further evolve the mobility experience, Sony will establish an operating company, Sony Mobility Inc., in the spring of 2022, through which the company intends to explore entry into the EV market." There is speculation that Sony may announce a partnership with a traditional manufacturer.
"With our imaging and sensing, cloud, 5G and entertainment technologies, combined with our content mastery, we believe Sony is well-positioned as a creative entertainment company to redefine mobility," said Yoshida at CES.
Tom Rothman, chair and CEO of Sony Pictures Entertainment's Motion Picture Group was joined onstage by actor Tom Holland to present a lengthy "single take" action sequence from the upcoming theatrical release "Uncharted" that showcased Sony's virtual production tools. (The film's action-packed twist on the classic foot-chase-atop-a-train has Holland running along a string of cargo cubes trailing from an in-flight plane.)
The sequence from the game-based film showed how Sony's real-time "vision-processing" cameras can be deployed for the metaverse, not only for games and social interactions, but tournament play, which Sony Interactive Entertainment president and CEO Jim Ryan announced as a 2022 addition to the PlayStation 5.
Ryan also debuted new PlayStation 5 gear, including details regarding the next-PS5 VR2 Headset (with eye-tracking for more nuanced avatar expression and "subtle vibrations" for responsive feedback) and the PS5 VR2 Sense Controller. Sony's VR2 also has a 4K display, foveated rendering and a 110-degree field of view.
PlayStation VR2 content will include "Horizon Call of the Mountain," a made for PS5 VR2 game leveraging the PlayStation-exclusive "Horizon" franchise. Yoshida later returned to the stage to announce a PlayStation 5 partnership with Manchester City Football Club, whose CEO Ferran Soriano said will "allow fans to create their own avatars and interact in a virtual space" including the team's Etihad Stadium.
The synergistic relationship between games and entertainment was emphasized by Rothman, touting HBO's "The Last of Us" from Sony-owned "Uncharted" developer Guerilla Games (in what Rothman says will be HBO's first game-based original production), and the upcoming Sony Pictures theatrical release, "Ghost of Tsushima," developed by the PlayStation group's Sucker Punch Productions.
For more on CES 2022:
CES Hashtag — #CES2022
CES Twitter Handle — @CES
CES Facebook Page — facebook.com/CES
Topics:
5G
,
CES 2022
,
Cloud
,
Electric Vehicle
,
Ferran Soriano
,
Ghost of Tsushima
,
Guerilla Games
,
Horizon
,
Jim Ryan
,
Kenichiro Yoshida
,
Metaverse
,
PlayStation 5
,
PS5 VR2
,
Smart Car
,
Sony
,
Sony Interactive
,
Sony Mobility
,
Sony Pictures Entertainment
,
Spider-Man
,
Sucker Punch Productions
,
The Last of Us
,
Tom Holland
,
Tom Rothman
,
Uncharted
,
Virtual Production
,
Vision-S