Consumer Technology Association (CTA) president and chief executive officer Gary Shapiro and CTA executive vice president Karen Chupka cut the ribbon to mark the official opening of CES 2022 and then took two photos: one with masks and, quickly, one without. The message was clear: CES is back in person, but safety protocols are still in place. "We made it to Las Vegas at a time when innovation has never been more important," said Shapiro. "We've embraced technology during the pandemic and survived a virtual world in large part due to modern technology."
"The fact is that surviving is not enough," he added. "In these unsettled times, we need to find ways to thrive and support entrepreneurs who dream of building a better world." Shapiro admitted that CES 2022 is still quite different from a typical gathering, with "gaps on the show floor and new protocols and procedures."
"It may be a bit messy," he said. "But innovation is messy. It takes us out of our comfort zone — and it is important to create a space for innovators."
Shapiro highlighted some of the confab's themes thus far, including sustainability and expanding access in society. "Tech empowers us to ask big questions about our world," he said. "Innovation can come from anyone and anywhere." He pointed out that, for this 55th show, CTA added a digital platform, where on-demand video content from CES 2022 will be available until the end of January.
With regard to Shapiro's observation that innovation can come from anywhere, Chupka added that the 2,300 exhibitors on the show floor hail from 19 countries.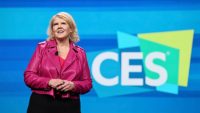 New industry sectors have risen to the fore at CES 2022. As an example, Abbott Labs chair and chief executive Robert Ford gave the first keynote from a healthcare company at CES. Chupka added that Space Tech and Food Tech are new sectors making a strong appearance at the show.
Shapiro stressed that, "leaders around the globe are concerned with similar issues — using tech in a positive way, getting small companies to grow and big ones to thrive." "Sustainability tops the list for many countries," he said. "And you'll see green innovations and smart cities around the floor." This year, he added, 1,800 products were submitted for consideration by the CES Innovation Awards Program.
In partnership with the World Bank Group, CTA also launched its first Global Women's HealthTech Awards, with the aim of identifying and celebrating innovative technologies that address gaps in women's healthcare and safety in emerging markets. The Awards drew over 70 companies from 35 countries, and the four winners provide two different solutions to early breast cancer detection, non-surgical treatment of HPV, and expanded access to fetal monitoring.
Shapiro ended with a plea to "celebrate growth and stop punishing U.S. companies for their successes." "Tech has the great ability to transform the world, which is why we need to create a tech-savvy workforce with reasonable guidelines and shared rules of the road," he said. "Too often political leaders limit our free speech, which undermines the principles of entrepreneurship and democracy."
"We ask leaders to work with technology, just as the business community also must lead boldly and by example to take principled stands," Shapiro concluded.
For more on CES 2022:
CES Hashtag — #CES2022
CES Twitter Handle — @CES
CES Facebook Page — facebook.com/CES