General Motors chair Mary Barra outlined a future of zero emission EVs and emphasized the Ultifi software platform to keep GM drivers connected during her virtual CES keynote that centered on the 2024 Chevrolet Silverado EV and ended with futuristic Cadillac concept vehicles including air transport. She predicts 50 percent of GM's factory production in North America and China will be all-electric by 2030 and that the company will deliver personal autonomous vehicles "as soon as the middle of this decade." Helping GM's more immediate plan to lead EV market share are Chevy's 2023 Equinox and Blazer EV SUV models.
Barra touted the Ultium scalable vehicle platform that can be used from compact crossovers to trucks to sports cars, providing longer range and faster charging times at lower costs. "The same hardware platform that created a super-truck like the Hummer EV will also create the Cadillac Lyriq," Barra said of two models GM brings to market in 2022.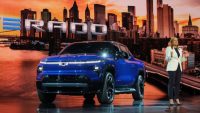 GM's "end-to-end" software platform, Ultifi, enables "frequent and seamless delivery of software-defined features, services and ownership experiences." Introduced in 2019 as part of GM's intelligent vehicle initiative, Ultifi is now on seven models, enabling software updates and content downloads over air.
The company will be the first to use Qualcomm's Snapdragon Ride platform for advanced driver assistance. Co-developed by GM and Qualcomm for Ultra Cruise, the Ride architecture "will have the processing capability of several hundred personal computers but is only about the size of two laptops placed on top of one another," Barra said. Designed for door-to-door hands-free driving, Ultra Cruise, enters production in 2023.
GM, partnered with Cruise on self-driving cars, is "working to be the fastest to market with a retail personal autonomous vehicle," an ambitious goal considering what look to be early leads by Tesla and Alphabet's Waymo. Likewise, GM's plan for EV market dominance faces hurdles. Ford (which pulled out of CES 2022 due to the COVID-19 Omicron surge) confirmed in December that 200,000 reservations for its 2022 F-150 Lightning EV pickup truck have already exceeded production of 150,000 vehicles, with delivery beginning in spring.
Ford's 2022 E-Transit is also sold-out in the cargo van category, another area in which GM has big plans, with Barra announcing Walmart reserving 5,000 of its BrightDrop cargo vehicles, joining FedEx, which just took delivery on 500 of the EV delivery vans and ordered another 2,000. Ford, Arrival and Rivian are competing for business in the EV cargo van space.
Barra — who appeared virtually from the stage of Detroit's Fox Theatre — touched on GM's deals to develop its HydroTec fuel cells as an auxiliary power source for Liebherr aircraft and rail company Wabtec, which is also exploring Ultium electric batteries for its locomotives.
The presentation ended on a high note, literally, with GM vice president of global design Michael Simcoe showcasing a Cadillac Halo concept advanced air mobility (AAM) vehicle that "meets you on the roof, provides a space to continue working — and a panoramic view to inspire great ideas — before it drops you at a vertiport close to your destination." AAM vehicles, like drones, are craft that use electric vertical takeoff and landing (eVTOL).
For more on CES 2022:
CES Hashtag — #CES2022
CES Twitter Handle — @CES
CES Facebook Page — facebook.com/CES
Topics:
AAM
,
Arrival
,
Autonomous Vehicles
,
Blazer
,
BrightDrop
,
Cadillac
,
Cadillac Halo
,
Cadillac Lyriq
,
CES 2022
,
Chevrolet
,
Cruise
,
Electric Vehicles
,
Equinox
,
F-150 Lightning
,
FedEx
,
Ford
,
General Motors
,
GM
,
Hummer
,
HydroTec
,
Liebherr
,
Mary Barra
,
Michael Simcoe
,
Qualcomm
,
Rivian
,
Silverado
,
Snapdragon Ride
,
Tesla
,
Ultifi
,
Ultium
,
Wabtec
,
Walmart
,
Waymo