Canon went all-in on VR at CES, demonstrating how the technology can be applied beyond games. As part of a partnership with director M. Night Shyamalan and his upcoming Universal Pictures thriller "Knock at the Cabin," Canon invited attendees to don a VR headset and interact with characters from the film using the company's Kokomo software for 3D VR video calls. The camera-maker's goal is "to bring people closer together by revealing endless opportunities for creators," Canon USA president and CEO Kazuto Ogawa said, invoking the theme "Limitless is More." The company demonstrated solutions spanning entertainment, sports, communication and more.
Canon USA senior innovation designer Jon Lorentz revealed that Kokomo, which was first announced at CES 2022, will begin its commercial rollout next month. The "first of its kind immersive virtual reality software brings lifelike video calling into virtual reality" using a headset and smartphone, Lorentz said, emphasizing the intimacy and naturalness of the interaction.
Another interesting aspect of Kokomo is the offering of pre-fab environments (such as Malibu Trailer, Hawaii Beach House, Mountain Tea House) as well as "pass through" for users' own homes.
Kokomo "is designed to provide users with a way to meet friends and family virtually 'in-person' by using a compatible VR headset and a compatible smartphone," reports ProVideo Coalition, noting that "the Kokomo solution will allow users to see and hear one another in real time and will work to fully mirror true physical appearance — even facial expressions — inside what is effectively a 3D video call."
Kokomo is geared toward allowing people "to experience social interaction from their home, hotel, dorm room or across other distances if there is a compatible headset, the software and an Internet connection," Canon explains in a press release.
Canon also showcased its Free Viewpoint Video System for arenas, stadiums and studios. Capturing data from an array of more than 100 Canon Cinema EOS-based 4K cameras and lenses, Free Viewpoint creates cloud-based 3D models that quickly reproduce various viewpoints or desired camera angles, swooping in and around players at a sports event, or zooming in for an intimate POV of musical performers onstage.
"The result is an immersive and customizable viewing experience from perspectives that may not be possible with traditional camera systems," Canon says. The system can also be used for virtual advertising.
CES attendees were able to watch different perspectives through the "eyes" of the characters from "Knock at the Cabin" that were captured by the Free Viewpoint system.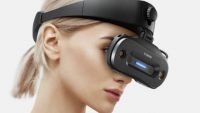 Another pre-release technology, MREAL, offers a mixed reality experience using Canon imaging technology to integrate real and virtual worlds. Presented as a solution for "industry, education, medicine, entertainment, and more," at CES Canon let booth visitors use MREAL for "a gamified experience" that immersed them in the world of "Knock at the Cabin," letting them interact with scenery, props and characters "as if they were a character in the movie."
Lastly, AMLOS (Activate My Line of Sight) is Canon's solution for helping people interact in virtual meeting environments spanning multiple locations. "Camera maker Canon leans into software at CES" was how TechCrunch contextualized it.
The company's January 4 CES media event — at which Shyamalan appeared onstage with Ogawa to mention use of Canon cameras and software solutions on "Knock at the Cabin" as well as his Apple TV+ show "Servant" — is available for replay.