The most impressive feature of the Magic Leap 2 demo at CES 2023 involves Global and Segmented Dimming. Global Dimming is a feature that dims the entire display without dimming digital content to make text and images more solid and precise. Segmented Dimming dims specific portions of the display to enhance legibility and clarity of selected content, and can also be used to focus attention to areas or components of interest. Both of these features produced outstanding visual results during our CES demo. Segmented Dimming produced very bright digital objects in front of a well-lit room, while Global Dimming could be used for VR immersion.
Magic Leap describes the $3,299 ML2, which launched last year, as "the most immersive enterprise device." The company emphasizes an AR wearable that is secure ("enterprises retain control of their data … store data anywhere and use any preferred cloud setup"), open (choice, ease of use, and support on an open platform — Android AOSP-based) and collaborative ("collaborate in real time across time zones").
At its CES booth, Magic Leap is promoting applications for a range of key areas such as enterprise, design, manufacturing, training and medical. Booth demos of AR solutions on ML2 include Cisco Webex Hologram and Nvidia's Omniverse, among others. The company also debuted its new remote assistance reference application, Magic Leap Assist.
Chief exec Peggy Johnson announced during AMD's keynote that ML2 is the first AR device to earn IEC 60601 certification, a collection of tech standards to ensure the safety and effectiveness of medical equipment.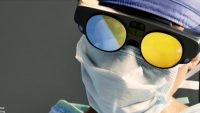 The field of view is currently 70 degrees, which may need to be widened going forward. Resolution is 1440×1760 per eye, with a 120 Hz refresh rate and 2000 nits maximum brightness. Four eye-tracking cameras constantly adjust the lenses to avoid eye strain.
The Magic Leap rep called the current version of hand tracking "rudimentary." The wire frame hand came close to overlapping on my hand in AR mode as it did a good job tracking my movements. More impressively, the Segmented Dimming rendered my hand invisible while clearly displaying the wire frame hand.
Topics:
AMD
,
Android
,
AOSP
,
AR Headset
,
Augmented Reality
,
Camera
,
CES 2023
,
Cisco
,
Cloud
,
Dimming
,
Display
,
Enterprise
,
Global Dimming
,
Lens
,
Magic Leap
,
Magic Leap 2
,
Magic Leap Assist
,
ML2
,
Nvidia
,
Omniverse
,
Peggy Johnson
,
Security
,
Segmented Dimming
,
Virtual Reality
,
VR Headset
,
Wearable
,
Webex