Panel discussions at the 2014 CES about 3D TV made one thing clear: adoption will rely on getting rid of 3D glasses. 3D TV was a big hit at last year's CES, but was much less prevalent among the 4K madness at this year's show. Industry execs who are hopeful that the technology will prevail insist glasses-free 3D TVs will get consumers excited about 3D again. James Cameron and his team are in research and development to improve the 3D experience for the Avatar sequels.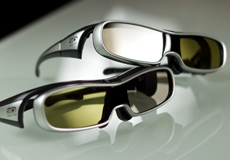 At the 2013 NAB Show, the Avatar director's Cameron Pace Group and Dolby announced a partnership in working toward glasses-free TV in the home, according to Carolyn Giardina of The Hollywood Reporter. During a discussion at CES moderated by Giardina, panelist and Cameron Pace Group COO O.D. Welch said that when Cameron envisions something, "he forces it into reality."
Some of the company's research and development includes a "'2D-plus' camera system that [Welch] described as a 2D camera with two micro cameras that are used to capture and create a depth map," explains Giardina.
Dolby's senior director of broadcast imaging Roland Vlaicu said the data captured with the camera system can be used to put the program on Dolby 3D glasses-free displays, also known in the industry as autostereoscopic screens.
Adrian Pennington notes in a related THR article that many panelists seemed to agree that some of the reasons 3D didn't take off as hoped were due to 3D glasses' competition with second screens, as well as a lack of content. Jim Mainard, head of digital strategy and new business development at DreamWorks Animation, counts himself as one of the many who at first believed glasses wouldn't be an issue.
"But it turns out that while 3D was being introduced, the second screen experience came in," he said. "3D active shutter glasses competed with second screens, so there was this occlusion of technologies. I think, though, that autostereo will make up for that barrier in the home."
As for a lack of content, 3ality Technica CEO Steve Schklair said that even with sports "you were watching 2D games shot with 45 cameras and the same game in 3D shot with six cameras. The storytelling in 3D was not as good because it was never given a chance to be."
According to THR, MasterImage 3D's Matt Liszt said at the panel that smartphones using the company's glasses-free 3D technology have already been launched in India and China. Schklair also pointed to greater success of 3D and film production in China and that the market there "may push 3D content back to the U.S.," the article says.
Topics:
2D
,
3ality
,
3D
,
4K
,
Animation
,
Autostereo
,
Autostereoscopic
,
Avatar
,
Camera
,
Cameron
,
CEA
,
CES
,
China
,
Content
,
Data
,
Display
,
Dolby
,
DreamWorks
,
Film
,
Glasses
,
Group
,
Home
,
Liszt
,
Mainard
,
MasterImage
,
Micro
,
Movie
,
NAB
,
Pace
,
Panel
,
Partnership
,
Pennington
,
Schklair
,
Screen
,
Second Screen
,
Smartphone
,
Sports
,
Television
,
TV
,
Vlaicu
,
Welch