Quibi founders Meg Whitman and Jeffrey Katzenberg opened the second day of CES unveiling their new mobile specific entertainment — and NBCUniversal chairman of advertising and partnerships Linda Yaccarino underscored the value and role of entertainment in her afternoon keynote. Even as screen sizes get bigger in the living room, the ubiquity of mobile screens drives Katzenberg and Whitman's pitch to deliver A-list entertainment to audiences everywhere. Diverse, quality content serving audiences wherever they choose is Yaccarino's mission for NBCU.
The audience members inside the MGM Park Theater were among the very first to see examples of Quibi's vision for what mobile entertainment can be. They set the stage with a video to illustrate the evolution of entertainment and then feature some of the A-list talent attracted to the billion-dollar startup, from Guillermo del Toro and Steven Spielberg to Antoine Fuqua, Catherine Hardwicke and Reese Witherspoon.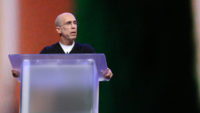 Katzenberg and Whitman (photos courtesy of CTA) and their backers — including Disney, Alibaba and NBCUniversal — are banking on Quibi's singular focus on mobile. "We are obsessing over mobile video like no one else," said Quibi's chief technology officer.
Examples of Quibi series include "Spielberg's After Dark," that can only be watched after dark. Antoine Fuqua is developing a drama, "#Freerayshawn."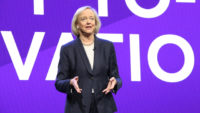 Quibi expects to introduce 175 original programs and 8,500 episodes, ten minutes or less, in the year following its April 6, 2020 launch. The service is priced at $7.99 per month, ad-free, and $4.99 per month for ad-supported. Major brands including Progressive, Anheuser-Busch InBev, Pepsi, Google and Walmart are among the advertisers.
Yaccarino, supported by NBCU stars Kate del Castillo, Terry Crews, Ester Dean, Mandy Moore and Natalie Morales, put the audience at the center of the NBCU universe. Asked by "Today Show" West Coast anchor Morales what excites her about the state of media, Yaccarino cited personalization enabled by so much of what is on display at CES. "Content meets technology at CES," she said. 
Moore, who stars in the hit show "This is Us," enthused about this new chapter in a professional career that began at age 15. Moore credits NBCU with really investing in characters and their stories.
Characters and the stories behind them were a recurring theme with all of the other stars and shows. "We learn so much about ourselves," said Yaccarino. By extension, the identification between audience and onscreen characters enables advertisers to connect with the right consumers.
Del Castillo, who stars in Telemundo's successful series "La Reina del Sur," has seen her international profile climb with each new way to connect with her fans.
Music producer-mentor Dean, from the breakout show "Songland," could not be more enthusiastic about the opportunities technology enables. "I am going to have a legacy because I was in a room with technology," she said of her songwriting career.  On "Songland," she noted, "we shine a light on how music is made…. Technology is giving everybody a way of doing things."
Discovering talent is the magic for Crews, host of "America's Got Talent." "There are incredible stories behind everyone," he said. Technology has given the audience a say and that is the future of entertainment, he suggests.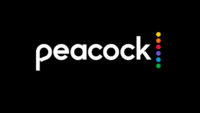 Crews, who also stars in the sitcom "Brooklyn Nine-Nine," points to streaming as an exciting audience expander. This was a point also made by speakers during other CES sessions. "The audience now has a choice of what and when to watch," noted Crews. The father of five said the ability of kids to watch the shows they want to see on their schedule, not by appointment, is a boon for parents.
NBCU is getting ready to launch its own streaming service Peacock this Spring. "Our audience is telling us what they want," said Yaccarino. "Technology motivates us to bring more great stories and create more ways to connect with viewers."
Topics:
Advertising
,
Alibaba
,
Anheuser-Busch InBev
,
Antoine Fuqua
,
Catherine Hardwicke
,
CES 2020
,
CTA
,
Disney
,
Ester Dean
,
Google
,
Guillermo del Toro
,
Jeffrey Katzenberg
,
Kate del Castillo
,
Linda Yaccarino
,
Mandy Moore
,
Meg Whitman
,
Natalie Morales
,
NBCUniversal
,
Peacock
,
Pepsi
,
Progressive
,
Quibi
,
Reese Witherspoon
,
Steven Spielberg
,
Telemundo
,
Terry Crews
,
Walmart