The ETC team found two interesting object detection startups at CES's Eureka Park: Italian company ARIA Sensing, which claims to manufacture "the world's smallest UWB [Ultra-Wideband] radar" for offering "unparalleled detection performances" — and French startup Ingenious Things, which is promoting what it describes as "the first IoT tracker for less than $1." ARIA Sensing has developed a 13mm x 15mm postage stamp size chip that is able to detect small movements, gestures and even breathing at distances up to 10 meters. The $1 Stick Trackr by Ingenious Things is less than 5mm thick and can operate for up to three months before it needs a new battery.
Over the course of 10 years of R&D under various military contracts, ARIA has built a portfolio of eight patents. The chips currently cost $20 each, but the price could come down when they go into large-scale production.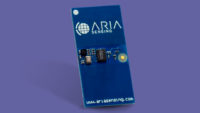 "Every ARIA solution can be easily and quickly integrated into a wide range of applications," explains the company's site. ARIA lists security, military, industrial, home, office, retail and health as key areas. "Thanks to a patented embedded antenna system, an onboard microprocessor and a full range of communication interfaces, a revolutionary technology has never been so easy to implement."
The Ingenious Things Stick Trackr depends on the technology of Sigfox to locate objects. Sigfox is a global network operator that builds wireless networks to connect low-power objects such as electricity meters and smartwatches that need to be continuously on and emitting small amounts of data.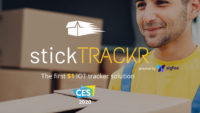 According to the Ingenious Things site, they are "experts in LPWA technologies (Low Power Wide Area Networks — aka Sigfox/LoRaWan). We identify the capabilities of new IoT technologies to respond in an innovative way to our customers."
The Stick Trackr could be used to track items on a film shoot location to make sure no valuable objects are left behind. While each Trackr costs $1, the company charges an additional $1 each time the Stick Trackr is activated to locate a device.
Both startups are located in Eureka Park during CES (ARIA Sensing, Sands booth 52722 — and Ingenious Things, Sands booth 52651).
Topics:
ARIA Sensing
,
Automation
,
CES 2020
,
CTA
,
Electricity Meters
,
Eureka Park
,
France
,
Health
,
Industrial
,
Ingenious Things
,
IoT
,
Italy
,
LoRaWAN
,
LPWA
,
Military
,
Networks
,
Object Detection
,
Production
,
Radar
,
Retail
,
Security
,
SIGFOX
,
Smartwatch
,
Stick Trackr
,
Tracker
,
Ultra Wideband
,
UWB
,
WAN
,
Wireless