Netflix turned on the world, adding 130 new countries, during the time its CEO and co-founder Reed Hastings delivered the opening day keynote at CES in Las Vegas. The addition of these new markets grows Netflix's global footprint from 60 to 190 territories as the company reimagines itself as a global television network. Hastings and chief content officer Ted Sarandos covered many of the technological, economic, business and creative innovations driving their success in a world where Hastings observed, "Tune in has been replaced by personal choice."
"Today you are witnessing the birth of a new global Internet TV network," said Hastings. "With this launch, consumers around thew world — from Singapore to St. Petersburg, from San Francisco to Sao Paulo — will be able to enjoy TV shows and movies simultaneously… no more waiting. With the help of the Internet, we are putting power in consumers' hands to watch whenever, wherever and on whatever device."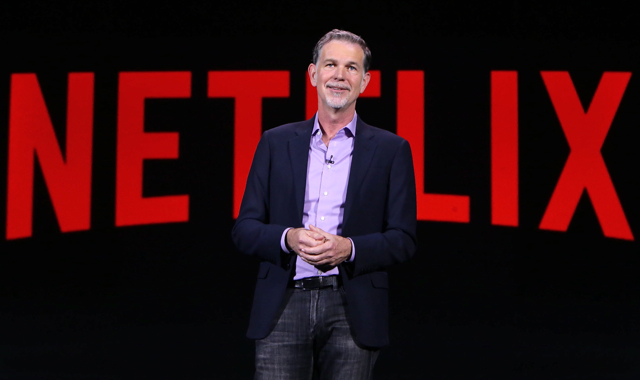 The very fact that Netflix was the opening morning keynote was news itself because this spot has typically been filled by consumer electronics giants. But as Hastings noted in his introduction, Netflix has been working for years with CE companies "to unlock the value of entertainment."
Digital distribution was always part of Netflix's longterm plan; however, it was not until 8 years ago that the cost of digital delivery crossed the point where it was less expensive than physical delivery. In the same way that Netflix streamlined physical delivery by localizing shipment of its most popular titles, Hastings said that over 1,000 engineers work to constantly improve the quality of Netflix service.
The deployment of their Open Connect, CDN technology made available that enables Netflix to deliver video optimized for devices and bandwidth, is one example. They're already leading the way in 4K video distribution and will launch high dynamic range (HDR) capability later this year.
Sarandos previewed lengthy clips from two upcoming series, "The Crown" and the hip-hop themed "The Get Down." He was also joined by Chelsea Handler, Will Arnett, Krysten Ritter,and Wagner Moura. The celebrities helped Sarandos illustrate the range of original programming now being made for Netflix.
"Linear television networks must aggregate a large audience and hope they like what they see," he said. "We can take more risks."
Those risks are mitigated by big data, which drives all of their investment decisions. Knowing their audience as they do not only allows Netflix to recommend with ever increasing effectiveness, but also enables them to identify audiences for more specialized interests. "To use a baseball analogy," he said, "linear television needs to hit home runs. We can score with singles, doubles and triples and satisfy multiple audiences."
Business models and audience demand are two factors driving Netflix business decisions. The push into original programming was due in part to legacy business models and rights agreements that subject linear television "to business models that users don't understand and confound common sense," said Sarandos.
Hastings closed out the keynote pointing out that given the choice between quality service and piracy, the quality service grows and piracy drops. "Given a fair opportunity, people will pair a fair price," he suggested.
And then he delivered the headline news. The Internet is everywhere, he said, and everywhere Hastings travels he said he's asked "when can I get Netflix."  With the exception of a few places, such as China, the answer is today.
"Today, I am delighted to announce that while we have been on stage, Netflix is now available in Azerbaijan, in India, Russia, Saudi Arabia, Turkey… 130 new countries."
"#Netflix is everywhere."
The CES keynote and other Netflix information may be found here. For a full list of countries with Netflix service, click here.
Topics:
4K
,
Big Data
,
CDN
,
CES 2016
,
Chelsea Handler
,
China
,
CTA
,
Distribution
,
HDR
,
India
,
Internet TV
,
Krysten Ritter
,
Licensing
,
Movies
,
Netflix
,
Network
,
Open Connect
,
Original Programming
,
Piracy
,
Reed Hastings
,
Russia
,
San Francisco
,
São Paulo
,
Saudi Arabia
,
Singapore
,
St. Petersburg
,
Streaming
,
Ted Sarandos
,
Television
,
Turkey
,
TV Shows
,
Video
,
Wagner Moura
,
Will Arnett