In History and Direction of Wearables Part 1, we looked at the Consumer Electronics Association's numbers for wearables, from 2014 through the end of 2015. CEA's Director of Business Intelligence Jack Cutts released his forecast figures for the wearables category, specifically in terms of fitness trackers, smartwatches and smart eyewear. In Part 2 of our report, we look at CEA's projected numbers regarding wearables from 2016 through 2018 and beyond. "This time next year will be the beginning of the wearables mania," said Cutts.
He backed that up with numbers: In 2016, wearables will be 2.7 percent of total U.S. shipment revenue, for a $6B market; by 2018, it'll be 3.2 percent at $7.6B dollars.
"That's a pretty serious market," he said. "Fitness tracking with regard to unit volume will still be on top through 2018, but smartwatches are quickly catching up. I believe other fitness devices — orthopedics or implantables — will fill in this niche and help prop up this category. In smart eyewear, 76 percent growth is nothing to sneeze at, but we'll just be getting to where virtual reality takes off."
On a revenue basis, smartwatches carry the wearables category at $4.7B, with fitness trackers at $1.4B. "Smartwatches are becoming the go-to wearable device," said Cutts. "They're competent at measuring steps, etc. Why wear fitness trackers when you can wear a watch?"
Meanwhile, fitness trackers show only 2 percent growth while smart eyewear shows 10x growth from 2015 to 2018. "Smart eyewear will eventually rule CE wearables," predicts Cutts.
Will wearables become mainstream by 2018? "We have to be careful what we talk about as mainstream," said Cutts. "They don't have to achieve smartphone penetration levels to be considered mainstream. It's not a fair metric. Mainstream is about mindshare as much as what and how many you actually own."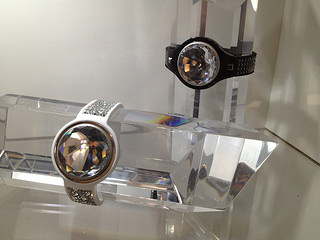 With regard to smartwatches, Cutts believes that "premium and/or fun" designs will win market share. "Watches have been premium for a long time," he noted. "Interaction with watch will be a key differentiator — if you can talk to it, touch it. Some of these methods are more elegant than others. How intuitive and consistent it is implemented will have a lot to do with what platforms will 'win' the smartwatch world."
Smartwatches also offer areas of growth because they touch the skin. "A lot of things can be measured that way," said Cutts. "It proves the device is on you, which a fitness tracker may not be able to guarantee. It opens up avenues of growth. My watch can have a secure path into the phone and have the phone do things, such as using the wearable as the key that unleashes the IoT/smart home. Being an authenticator is one of the killer apps."
Authentication may be cannibalized by smart jewelry, however, and "plenty of people don't wear watches."
Fitness trackers' key success factor is that they're unobtrusive. "And early returns say smartwatches aren't as accurate," he said. "We have opportunities for niche markets: sports; chronic disease management, and broader acceptance in the medical community."
He wonders if health and fitness trackers will ever reach "throwaway gadget" status. Cutts also believes that "new sensors and new use cases may breathe new life into health and fitness trackers."
Cutts believes smart eyewear will probably always be niche. "Talk to me when you can sell me smart contacts," he said. With regard to VR, however, he believes that it "will usher in a third Golden Age of video gaming, with likely adoption by a very high percentage of console and PC gamers."
Other industries (including the military, Hollywood, real estate, and adult entertainment) and government will take VR and run with it, he believes.
Cutts' idea of a killer app? A smartwatch in the vehicle, with Android/iOS in the car as a force multiplier. "Ultimately that is the promise of the smartwatches — acting like a hub," he said.
But the IoT also has a downside. "How many smart things will clutter up my life in 2020 — and when will I find time to charge them all? Charging fatigue could be an actual thing."
Click here to read Part 1 of this report.
Topics:
2015 CES
,
Activity Bands
,
Automotive
,
CEA
,
Eyewear
,
Fitness
,
Fitness Trackers
,
Gaming
,
Health
,
Implantables
,
Internet of Things
,
iOS
,
IoT
,
Jack Cutts
,
Jewelry
,
Las Vegas
,
Military
,
Mobile
,
Orthopedics
,
Sensors
,
Smart Glasses
,
Smart Home
,
Smartphones
,
Smartwatches
,
Virtual Reality
,
VR
,
Watches
,
Wearables