Japanese startup FOVE has developed a virtual reality head-mounted display with built-in eye tracking. The eye tracking enables the software to render the areas where the viewer is not looking with less precision than the area where the viewer is staring, allowing for more efficient CPU/GPU resource utilization. The rendered image was very clear, and the eye tracking worked well. When the headset goes to market, a FOVE rep expects the HMD with headtracking to sell for $400-$450.
The company name is a play on the words "Field of View" and a reference to fovea — the portion of the retina responsible for sharp central vision. The display and eye tracking technology, hacked together by CTO Lochlainn Wilson, weighs only 150 grams within the 750 gram awkward-looking, but surprisingly comfortable kluged headset.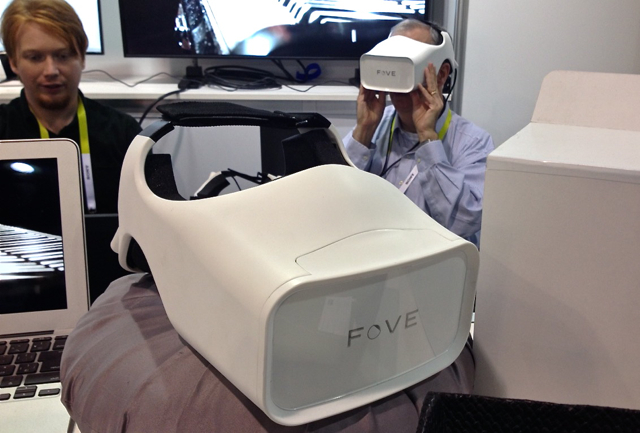 FOVE demonstrated the eye tracking with a shooter game that fires rockets wherever you looked in a fully rendered virtual environment.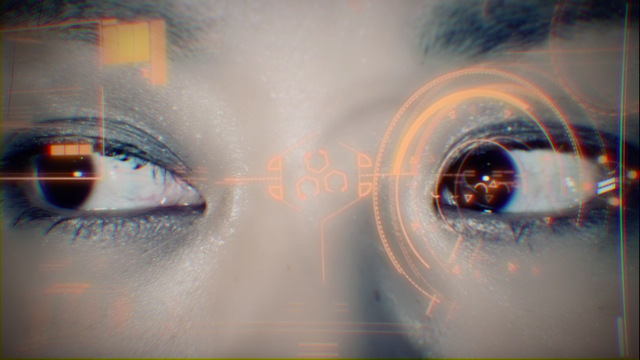 Ivan Blaustein of Seattle-based VRcade visited the FOVE booth while I was there. VRcade attended the most recent ETC VR Digital Town Square. The company is developing a multiplayer VR experience that utilizes IR motion capture within an open space.
Its current prototype works with four players, and the plans are to build it out to accommodate 32 players. VRcade's staff includes hardware and software engineers plus creatives.
Also visiting the FOVE booth was Christine Perey, founder of the Augmented Reality for Enterprise Alliance (AREA). The organization, which is still in stealth mode, is working to build community around "everything VR except entertainment!" If she is successful, it will be a good source of outsider ideas from other industries.
Finally, a representative of San Francisco-based Rothenberg Ventures was there working to interest FOVE in joining their incubator. Beyond hoping to fund them, Rothenberg Ventures has started an accelerator in San Francisco focused on VR-related startups.
FOVE just completed the Microsoft Ventures London Accelerator Program in December, becoming the first Japanese company to do so. CES attendees can visit the company at the Sands Expo, Level 2, booth #71374.
Topics:
2015 CES
,
AREA
,
Augmented Reality
,
CEA
,
Christine Perey
,
CPU
,
Digital Town Square
,
Display
,
Eye Tracking
,
Field of View
,
FOVE
,
Fovea
,
Gaming
,
GPU
,
Headset
,
HMD
,
Immersive
,
Ivan Blaustein
,
Japan
,
Las Vegas
,
Lochlainn Wilson
,
Microsoft Ventures
,
Motion Capture
,
Retina
,
Rothenberg Ventures
,
San Francisco
,
Virtual Reality
,
VRcade