CBS launched its latest streaming network this week, as part of its strategy to reach younger viewers who are losing interest in traditional pay TV. The free ET Live channel, developed by CBS Interactive and "Entertainment Tonight," will offer a wide array of entertainment news and related original programming via CBS All Access and ETLive.com, in addition to its own standalone app for Android, iOS, Apple TV and Amazon Fire TV (integration with more platforms is expected in the future). CBS recently rolled out a number of streaming services as part of its CBS Local brand.
"The new service will deliver 24/7 coverage of entertainment news, including breaking news, celebrity interviews, features, behind-the-scenes and red carpet coverage," reports TechCrunch. It will also feature "stories across celebrity fashion, beauty and lifestyle."
CBS promises more than recycled "Entertainment Tonight" content from broadcast TV, including original content and new hosts. ET Live will also be available "as a feed within CBSN, the network's 24/7 streaming news service."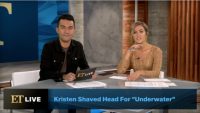 According to CBS News, the new "service will put the spotlight on entertainment's biggest events, like the Oscars, Emmys, Golden Globes, Grammys, Victoria's Secret Fashion Show, NY and LA Fashion Week, Comic-Con, Coachella and more with live, exclusive coverage and original reporting."
ET Live joins CBSN, CBS Sports HQ and local CBS News as channels under the Live category of the CBS All Access app.