Pay TV operators such as Comcast and Verizon FiOS are expanding their on-demand TV services. This is in response to Netflix, through which many users "binge" on a full season of programming in one viewing. Cable operators and media content companies differ on where they should distribute their on-demand content and are cautiously moving forward. A concern for many is the pricing structure if cable companies offer expanded on-demand services.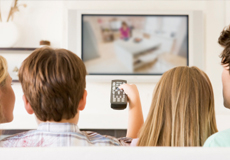 "Consumers are watching less programming as it airs on TV and increasingly seeking on-demand entertainment," reports The Wall Street Journal. "Netflix and some other online players have largely popularized binge-viewing, and pay TV companies want to keep pace."
Comcast made an agreement with 21st Century Fox to offer all episodes of select broadcast and cable shows on its on-demand service later this season, according to people familiar with the matter. Fox is also looking to similar partnerships with other cable operators.
Netflix has informed TV content owners that it will not be willing to pay them as much for programming if they give full-season rights to cable operators, explains Ted Sarandos, chief content officer of Netflix. "The less exploited shows are through on-demand services, the more valuable they are to us," he said.
Companies that supply TV shows must decide where to offer their content — to Netflix and similar online distributors that are a source for rapid revenue growth, or with much larger traditional pay TV distributors. Two camps are forming, one with content companies such as 21st Century Fox and NBCUniversal willing to provide expanded on-demand rights to pay TV operators, and the other with Disney and CBS more hesitant to do so.
Netflix invests more than $2 billion a year in content and its service helps create audiences for shows, notes a Netflix spokesman. Some film executives credit Netflix for making specific types of shows, such as serial dramas, more possible to produce.
There are significant downsides to the Netflix relationship with content owners, said John Landgraf, chief executive of cable programmer FX Networks. Netflix removes the channel branding from shows that is airs, it takes out commercials unlike on-demand services that include ads and prevent the ability for fast-forwarding during commercial time.
It is unclear what pay TV providers are willing to pay in order to offer on-demand access for full-season shows. Some providers argue that they should not pay any extra fees since on-demand services give viewers a chance to catch up, and direct them to shows and boost their ratings, ultimately helping the media companies.