As several broadcasters get ready to test live Ultra HD broadcasts of the World Cup this week, the BBC has plans to go one step further. Journalist and ETCentric contributor Adrian Pennington tells us that the BBC has chosen next month's Commonwealth Games for the world's first live Ultra HD production that will use an entirely Internet-based infrastructure. While broadcasters have used IP to distribute content between the studio and remote locations, all-IP live production is not yet common.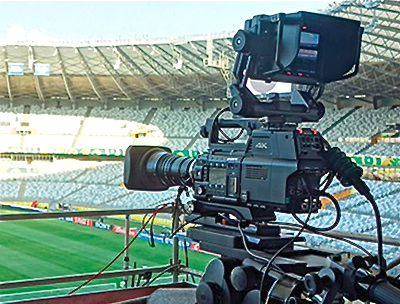 "IP will enable us to be more flexible with services we already produce, and longer term, to introduce new kinds of services," said Matthew Postgate, BBC R&D controller. "We wanted to do this in 4K to prove the system is capable of working at the highest resolution and of simultaneously working at all lower resolutions. By the time 4K comes around we won't have to spend time doing the research all over again."
"Beginning with the Commonwealth Games' opening ceremony on July 23 from Glasgow, Scotland, BBC R&D will produce a series of Ultra HD broadcasts using four Sony F55 4K cameras converted into IP and mixed live before being encoded into HEVC, a compression system suitable for home viewing," writes Pennington for The Hollywood Reporter. "To do this, the BBC will use technology of its own devising, dubbed IP Studio, which is a system that includes specially configured PCs to convert each 4K camera signal into IP and a production gallery featuring a multi-viewer and mixer."
The experiment will also test network capabilities of this volume in a live production. The BBC will use a UK-wide network of links operating at 100GB/s.
"The HEVC delivery portion is being tested from Brazil next week when the BBC takes the FIFA- and Sony-produced 4K feed into a DTT and IP chain back to closed sites in the UK," Pennington reports for SVG Europe. "This same distribution pattern will be re-tested from Glasgow, although there will be opportunities for a public view of the output."
A special viewing area will be set up at the Glasgow Science Centre, featuring 4K TVs and a video wall.
Pennington notes some of the demanding requirements of an all-IP studio: "high bit-rate low delay streaming, timing and synchronization, distributed configuration and control, real-time data, flexible reuse of processing, and access to production content and information."
Additionally, the IP Studio system needs to work in multiple resolutions and create a set of streams (4K, HD, sub-HD proxy) for different viewing devices. The Commonwealth Games will serve as a crucial next step in moving toward these goals.
Topics:
4K
,
Adrian Pennington
,
BBC
,
BBC R&D
,
Brazil
,
Broadcast
,
Camera
,
Commonwealth Games
,
Distribution
,
DTT
,
Experiment
,
FIFA
,
Glasgow
,
HD
,
HEVC
,
Internet
,
Internet Protocol
,
IP
,
IP Studio
,
Live
,
Matthew Postgate
,
Network
,
Production
,
Remote
,
Research
,
Resolution
,
Scotland
,
Sony
,
Sony F55
,
Sports
,
Streaming
,
Studio
,
Television
,
Test
,
TV
,
UHD
,
UK
,
Ultra HD
,
World Cup