Apple CEO Tim Cook led a press event yesterday from the Steve Jobs Theater at the newly constructed Apple Park campus in Cupertino. Among the top announcements, Apple unveiled three new iPhones (including the much-hyped 10th anniversary iPhone X), provided details for the swim-proof Apple Watch Series 3 with new dual-core processor, and debuted an updated Apple TV streaming box with 4K Ultra HD and HDR support (starting at $179). Apple also announced it is working with Qi to develop its AirPower wireless charging standard, walked through details for watchOS 4, and revealed a September 19th release date for iOS 11.
Apple introduced three new phones — the iPhone 8, iPhone 8 Plus, and the iPhone X (pronounced "ten").
"The commemorative model opts surgical-grade stainless steel and glass, the latter of which makes up the rear panel," reports Digital Trends. "It's both water- and dust-resistant, and will tout both wireless charging and a faster processor when it launches in the fall."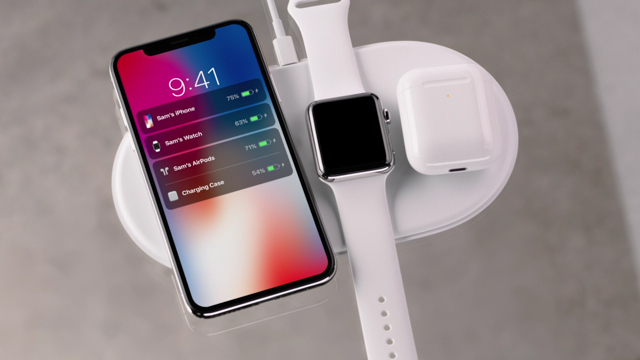 The iPhone X features an edge-to-edge 5.8-inch OLED display with 2,436 x 1,125-pixel resolution. It includes a 12 MP rear camera and 7 MP front camera. As previously leaked, Face ID replaces Touch ID so you can unlock your phone with a glance — and a swipe up from the bottom of the display replaces the home button function.
According to Wired, the Super Retina Display marks "the first time Apple's used OLED tech in an iPhone … Your dark colors will seem much darker, other colors even richer, and even text becomes more pleasant to read."
Apple introduced its ARKit augmented reality development tools at WWDC 2017, and this week revealed an array of AR apps for all three new iPhone models.
The iPhone "cameras have been calibrated for the technology, and the phones are capable of delivering crisp, 60 fps visuals even in low-light conditions, and they are outfitted with a new gyroscope and accelerometer to track motion accurately," notes Digital Trends.
The iPhone X will be available in a 64GB version for $999 and a 256GB version for $1,150. Pre-orders begin October 27 and deliveries are scheduled for early November. The iPhone 8 and 8 Plus will be available for pre-order this week, expected to begin shipping next week. Prices, depending on configuration, range from $699 to $949.
According to DT, in addition to a 70 percent increase in performance speed, the new Apple Watch now comes "with built-in cellular capacity, meaning you can upload fitness data to the cloud, stream tunes via Apple Music, and place and receive calls without the need for a tethered iPhone."
The Apple Watch Series 3 will run $329-$399 (depending on whether or not you want LTE) and will become available starting next week. However, as noted by The Verge, it will also cost you $10 per month for cellular service.
The updated Apple TV, in 32GB and 64GB models, will be available later this week starting at $179. In addition to 4K and HDR support, it is designed to connect with other Apple devices so you can stream photos and videos directly to your TV.
Apple TV joins Amazon, Google, Nvidia and Roku in offering a box with 4K and HDR streaming. According to TechCrunch, it stacks up well, "since it offers both Dolby Vision and HDR10 support for compatible 4K TVs and display hardware."
"In the end, Apple's content deals and ability to minimize the time a user spends hunting around to find what they need will be the deciding factor to the Apple 4K TV's success versus the rest of the field."
Video of the press event is available on the Apple site.
Related:
Apple Is Defying History With Its Pricey iPhone X, Wired, 9/12/17
Apple Bets on Augmented Reality to Sell Its Most Expensive Phone, Bloomberg, 9/12/17
Apple Debuts The Series 3 Apple Watch, Now With Cellular, Wired, 9/12/17
How Secure Is the iPhone X's FaceID? Here's What We Know, Wired, 9/12/17
The Apple TV 4K Has Arrived: Here's Everything We Know, Digital Trends, 9/12/17
Apple's Real Advantage Is What's Inside the New iPhones and Watch, Bloomberg, 9/13/17
Topics:
4K
,
AirPower
,
Amazon
,
Apple
,
Apple Music
,
Apple Park
,
Apple TV
,
Apple Watch
,
Apple Watch Series 3
,
ARKit
,
Augmented Reality
,
Cloud
,
Dolby Vision
,
Face ID
,
Google
,
HDR
,
iOS 11
,
iPhone 8
,
iPhone 8 Plus
,
iPhone X
,
LTE
,
Nvidia
,
OLED
,
Qi
,
Roku
,
Smartphones
,
Streaming
,
Super Retina Display
,
Tim Cook
,
Touch ID
,
Video
,
watchOS 4
,
Wireless Charging
,
WWDC 2017