During yesterday's highly anticipated "Show Time" event at Apple's headquarters in Cupertino, California, CEO Tim Cook was joined by top execs and Hollywood heavyweights to unveil details regarding a new streaming TV service in addition to initiatives involving news, gaming and finance services. The Apple TV+ subscription service is slated to launch this fall in more than 100 countries. While cost and specific launch dates were not addressed, the event emphasized original programming and a collection of channel partners during a presentation that was similar to a traditional television upfront, including major celebrities and musical performances.
Steven Spielberg was on hand to promote the return of Amblin's "Amazing Stories" anthology (ordered by Apple), while Sara Bareilles and J.J. Abrams touted their "Little Voice" series. Jennifer Aniston, Steve Carell and Reese Witherspoon introduced their upcoming drama "The Morning Show."
Jason Momoa and Alfre Woodard offered a first look at "Seeing;" Kumail Nanjiani introduced the upcoming anthology series, "Little America," Big Bird announced a new children's show from Sesame Workshop; and Oprah Winfrey, who signed a deal with Apple last year, announced that she is working on two documentaries for Apple TV+.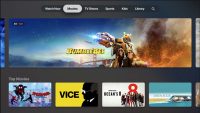 "Original programming was not the only TV offering hyped Monday," according to Variety. "Introducing a redesigned Apple TV service, VP of services Peter Stern revealed Apple TV Channels, a new service that will aggregate channels and services that customers subscribe to — with partners including Spectrum, DirecTV, Optimum, Hulu, PlayStation and Amazon Prime Video. Stern touted a user experience in which shows from multiple services, including Apple TV+ will be available in one place."
Several premium cable networks such as HBO, Showtime and Starz will also be accessible through the app.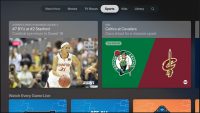 "The new Apple TV app will be available in May and will be included for the first time on the company's Mac computers. In the fall, the app will also be available for the first time on connected TVs and non-Apple streaming devices, including Samsung, LG, Sony, and Vizio TVs, as well as Roku, and Amazon Fire TV devices."
In addition to original movies and TV series, Apple plans to offer original video games this fall via its new Apple Arcade subscription service, notes Variety. The company is also introducing a new form of digital credit card called Apple Card, and is expanding Apple News "to include a $9.99-per-month subscription service that will allow users access to a whole host of different magazines."
For more information about Apple TV+, visit the website or the press release (which includes a promotional video).
Related:
Here Are All the New Services Apple Announced Today, Wired, 3/25/19
The 5 Biggest Announcements From Apple's March Event, The Verge, 3/25/19
Apple's Cavalcade of Stars Sets High Expectations, Variety, 3/25/19
Apple's 'Show Time' Event Puts the Spotlight on Subscription Services, The Washington Post, 3/25/19
Apple Launches Apple News+, an Immersive Magazine and News Reading Experience, Apple Newsroom, 3/25/19
Introducing Apple Card, a New Kind of Credit Card Created by Apple, Apple Newsroom, 3/25/19
Apple Introduces Apple Arcade — the World's First Game Subscription Service For Mobile, Desktop and the Living Room, Apple Newsroom, 3/25/19
Topics:
Alfre Woodard
,
Amazon Prime Video
,
Apple
,
Apple Arcade
,
Apple Card
,
Apple News
,
Apple TV
,
DirecTV
,
Fire TV
,
Gaming
,
HBO
,
Hulu
,
Jason Momoa
,
Jennifer Aniston
,
Kumail Nanjiani
,
LG
,
Oprah Winfrey
,
Optimum
,
Peter Stern
,
PlayStation
,
Reese Witherspoon
,
Roku
,
Samsung
,
Sara Bareilles
,
Showtime
,
Sony
,
Spectrum
,
Starz
,
Steve Carell
,
Steven Spielberg
,
Streaming
,
Subscription
,
Tim Cook
,
Vizio