The Entertainment Technology Center at USC will host a half-day forum on 5G as the next wave of media transformation. The symposium will take place on March 28, 1:00-5:30 pm in downtown Los Angeles. The advent of 5G is poised to transform the entertainment supply chain, various workflows, Hollywood enterprise relationships, and the very nature of content itself. The forum will offer panels and presentations that explore the 5G system; its transformative prospect for content creation, distribution and consumption; the potential for new types of live and immersive content; and how these transitions may disrupt traditional Hollywood business models.
Attendees will include senior technology and business strategy executives working in film and television content and distribution; broadcast and cable, including sports; post-production and distribution; OTT services; and computer software, cloud services, and consumer electronics.
The free event is invitation-only and closed-door with no media attendance. Please contact Edie Meadows if you're interested in attending.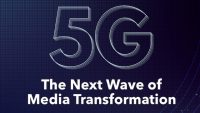 Join us for this comprehensive series of panels and talks about 5G technologies and what they mean for media and entertainment:
Getting Up to Speed with 5G
Bhaskar Krishnamachari, Professor and Ming Hsieh Faculty Fellow in Electrical Engineering, USC Viterbi
Operating On the Edge
Pete Bernard, Principal Group Program Manager, Strategy and Ecosystems, Microsoft
Durga Malladi, SVP & GM, Qualcomm Technologies, Inc.
Will Pressly, Senior Director of Engineering, Verizon
Moderator: Winston Caldwell, VP, Spectrum & Advanced Engineering, Fox Broadcast
New Frontiers in Immersive Entertainment
Per Karlsson, Director, Digital Representation & Interaction Research, Ericsson
Greg Gewickey, VP, Emerging Technology, Warner Media
Flint Dille, Creative Lead, Niantic
Moderator: Anshel Sag, Analyst, Moor Insights
How Can Wireless Broadband Remake Production?
Michael Davies, SVP, Field Operations, FOX Sports
Ben Havey, VP, Technology Innovation Group, Walt Disney Productions
Mariah Scott, President, Skyward
Moderator: Michael Chambliss, Advanced Production Technology Specialist, ICG
5G: The Potential vs. The Reality
Hanno Basse, CTO, 20th Century Fox Film Corp.
Peter Linder, Head of 5G Marketing, North America, Ericsson
Jake Sally, Head of Immersive Development, RYOT
Jonathan Wood, Senior Director Ecosystem and Business Development Advanced Technologies Group, Intel
Wayne Purboo, SVP Strategy and Business Development, AT&T
Moderator: Spencer Stephens, President, techXmedia
Topics:
5G
,
Anshel Sag
,
Ben Havey
,
Bhaskar Krishnamachari
,
Digital Town Square
,
Durga Malladi
,
ETC@USC
,
Flint Dille
,
Greg Gewickey
,
Hanno Basse
,
Jake Sally
,
Jonathan Wood
,
Mariah Scott
,
Michael Chambliss
,
Michael Davies
,
Movie
,
Per Karlsson
,
Pete Bernard
,
Peter Linder
,
Spencer Stephens
,
Sports
,
Television
,
Wayne Purboo
,
Will Pressly
,
Winston Caldwell